Are you a gardening influencer?
Do you create interesting and instructive posts, movie clips or pods?
Then you can share your posts directly in the Gardenize inspiration flow!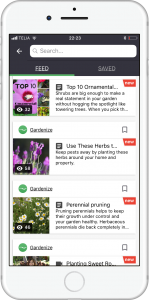 You easily share your posts by pasting URL links from:
– Blog page on a website
– Youtube
– Podcaster
To be able to share you need an account.
Post a mail to jenny@gardenize.se and describe a bit about what you do and your purpose.
Already have an account?
Log in here: Log in
Terms:
The posts are about gardening and or cultivation and being inspiring, sharing knowledge and experiences, containing tips or the like.
Gardenize reserves the right to choose which influencers and which posts are published.
Posts may include advertising or other forms of marketing, provided that it is approved by Gardenize.
For more information, please contact: jenny.rydebrink@gardenize.se
Read more about Gardenize here.