Upside-down gardening: April

 in Central

Otago
Mellow fruitfulness: Preparing for autumn, harvests, plants in pots, dividing and renewing mint, sedums, tomatoes, raised beds for vegetables.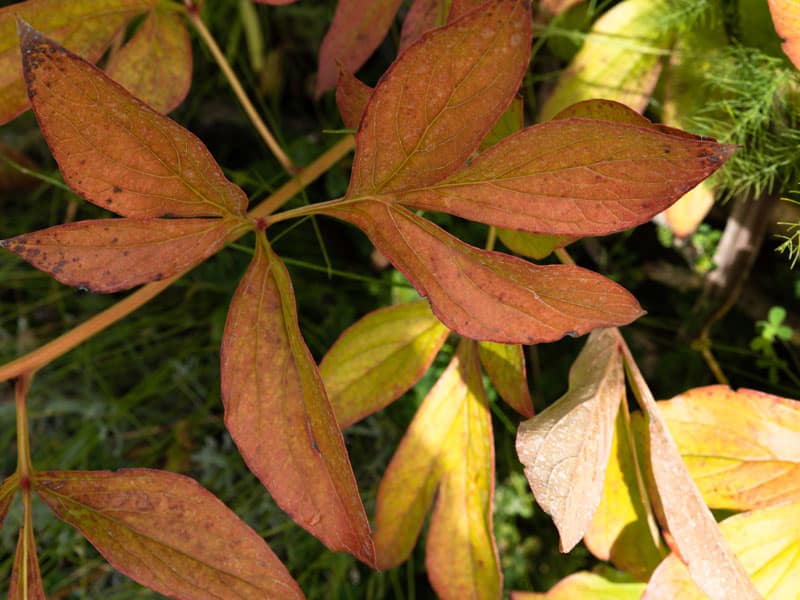 Autumn colour in the garden
Peony leaves
The picture at the top of this blog shows the autumn colour of a peony preparing itself for winter. Everyone knows that peony flowers are spectacular, but their leaves also contribute to the beauty of the autumn garden. 
Sedums
This is sedum "Autumn Joy", which I grew from a cutting that had been part of a bouquet of flowers I received a couple of years ago. All I did was push the stem into the soil. It's in poor soil in a very exposed position, but I'm pleased that it is putting out more growth from its base and bushing out nicely. 
There are many different varieties of sedum, and even when the garden is looking a little the worst for wear after the heat of summer, you can still add visual interest. They are very easy to propagate. I bought one of these darker-leaved, pink-flowered sedums and split it up when I took it out of the pot for planting. It's now clumping up nicely.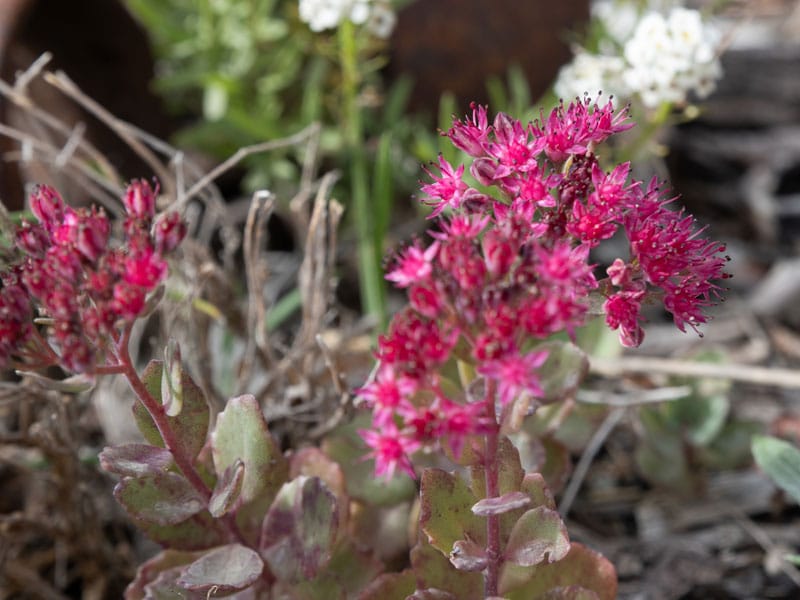 Harvests
There is a tradition of neighbourly sharing in Central Otago, so anyone with lots of produce shares it with friends and neighbours. I have already made spicy peach chutney, pear and courgette chutney and there is grape jelly to come. The freezer is groaning with frozen portions of stewed fruit to eat with yoghurt and there's a big bag of apples waiting to be made into foraged blackberry and apple pie. 
Corn
It's the first time I've ever tried growing corn and I'm pleased with my harvest, small as it is. This is popping corn, but instead of popping it, I'll strip it off the cob and add a few kernels to soup to add a touch of autumn heartiness, and I'll dry the rest, also for soup. You'll notice that the cob is not as full as it might be. That is because I only grew three plants, which means it is harder to achieve full fertilisation of the developing corn. Each plant produced two cobs like this, as well as two or three immature cobs lower down the stem. I picked the immature cobs early on, before the plant became too dry, and they were delicious as baby corn in a stir fry. Next year, I'll grow sweetcorn instead and I'll plant a block of about eight plants. That way, I'll still have baby corn and a few mature cobs, but the cobs should be better filled.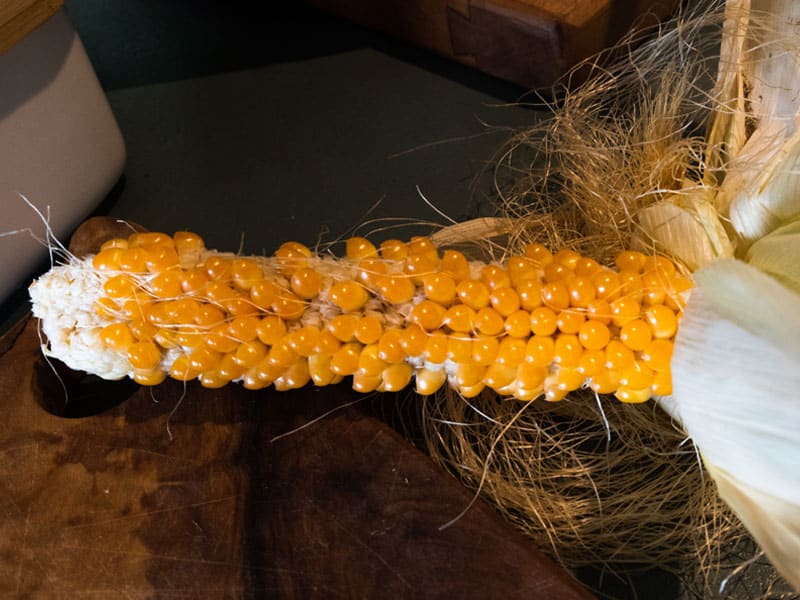 Tomatoes
I messed up repotting my tomato seedlings and ended up with fewer plants than I intended. Nevertheless, I was very pleased with these Sub Arctic Plenty tomatoes. I like all the different colours and shapes of tomatoes you can buy, but these are a typical tomato shape and colour. Because there were fewer plants, they benefited from being less crowded. I'm watching the temperatures, and as soon as the minimum temperatures are predicted to fall to one degree or less, I will strip the plants, so that the ripe fruit can be pureed for freezing and the green fruit can be made into chutney. 
I make more chutney than my household can use, so lots of it goes to friends and neighbours. Some of them give me preserves that they have made, so we all end up with a nice variety of tasty stuff in jars to keep us going until next autumn.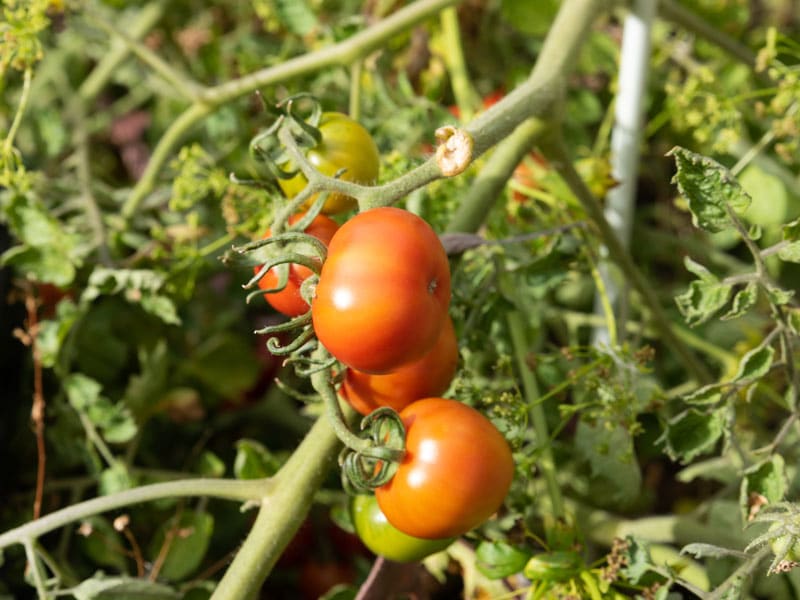 Plants in pots
Tender plants
Any tender perennials in pots will need to be brought indoors soon. Tender annuals can simply be composted. This aubergine is only just flowering, so it has no chance of producing fruit before winter. I'm going to bring it indoors and I hope I'll get a harvest from it. 
Dividing and renewing mint
I like to grow a couple of varieties of mint in pots on the balcony, where I can grab a sprig to make tea. You'll see there's a nettle plant growing in the strawberry plant: that will go in tea too. It's supposed to be good for arthritis. Mint likes shade and rich soil if it can get it. This is a good time of year to divide it. 
It has a habit of sending out long roots, which end up at the side of the pot. Being at the side of the pot, they are vulnerable to frost in winter and overheating and drying out in summer. It's a good idea, then, to turn the mint out of the pot and split it up. 
I ended up with four pieces that would make good plants. I put them into pots with some coir and topped them off with worm cast to feed them. You could use any peat-free potting compost and add fertiliser. 
The mint began to wilt in the afternoon heat, but I drenched it with a hose to settle it into the pot, and I'm sure that by morning, it will be fine. Not only is the mint plant rejuvenated, but I have more mint plants. 
Mint is almost indestructible and is a great plant for beginners to propagate. Just don't be tempted to plant it directly in the garden: it spreads like wildfire, and if you want a few different varieties of mint, don't let the roots of one variety touch the roots of another, or they'll end up tasting the same.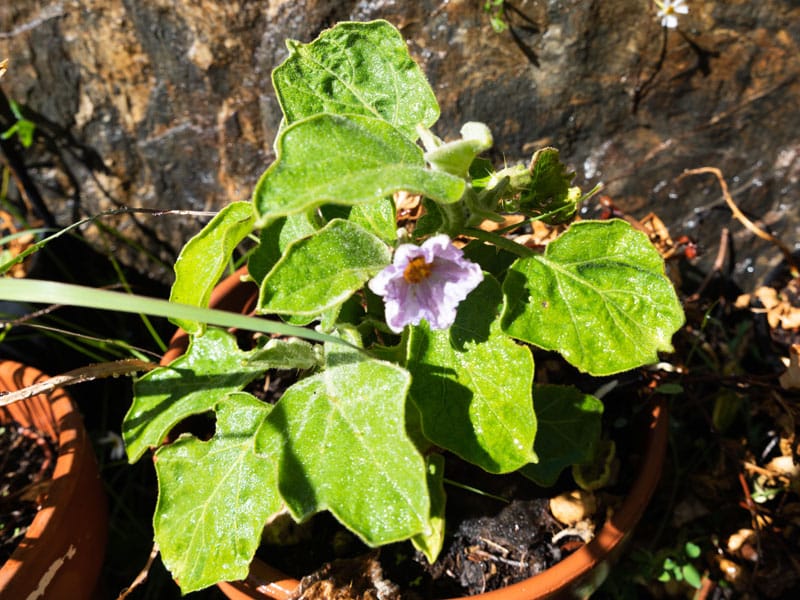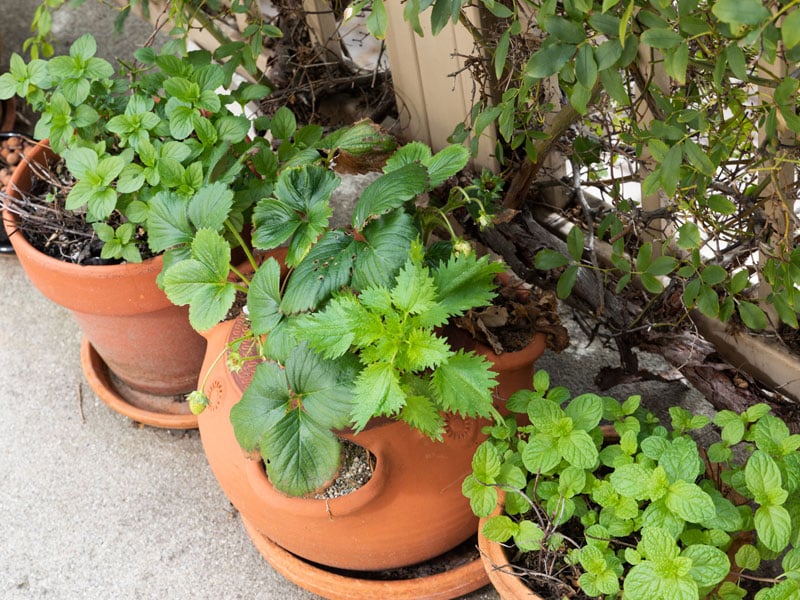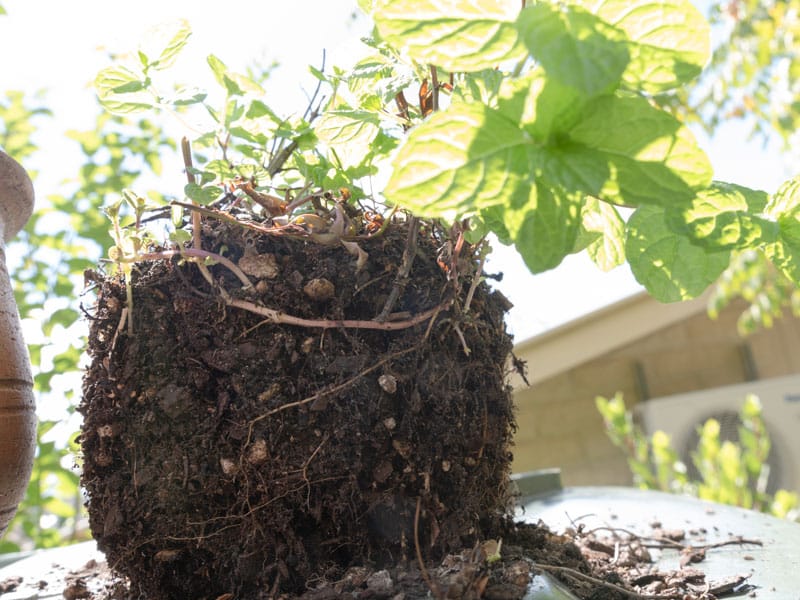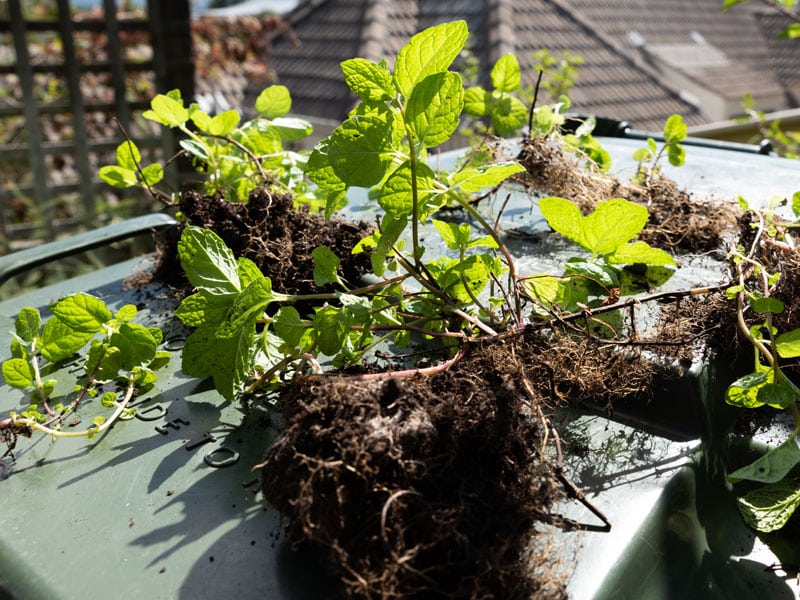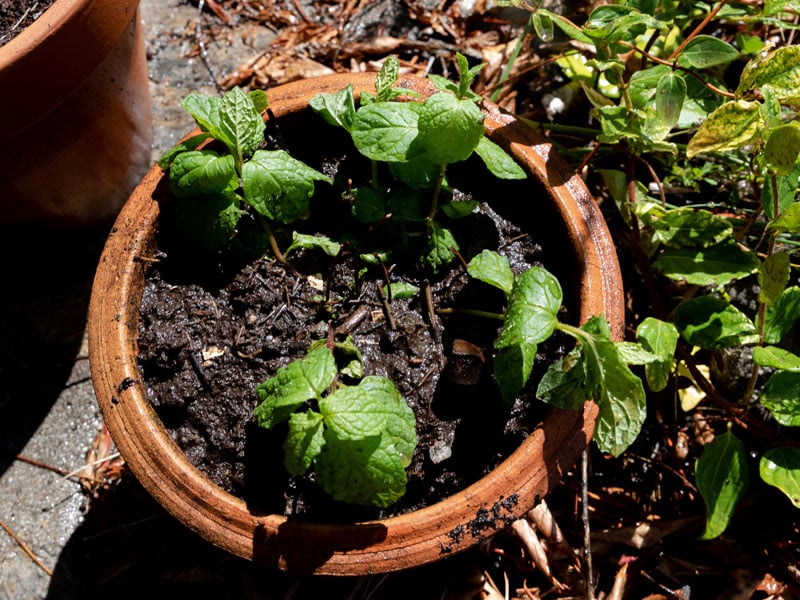 I've been busy giving the vegetable bed a makeover. I recently bought three flatpack metal raised beds. They fit beautifully on the terrace where I grow most of my vegetables, leaving me with a tidier, more accessible space with paths between the beds. I covered the paths with cardboard and put woodchip on top. The cardboard smothers any weeds and the woodchip keeps my shoes clean, while slowly decomposing to feed the soil in the adjacent beds. 
I put a couple of sacks of horse manure in each bed and covered that with cardboard to suppress any weeds. My husband had just cut our poplar hedge, so I shredded the waste and put that on the cardboard. On top of that went a mixture of spent coir, sieved matured woodchip and worm cast. Into that mixture I planted onion sets, celery seedlings and spring onion plants. Then I sowed pak choi, tatsoi and orach. The seeds have germinated and the transplants have survived. As the manure decomposes and the level of soil in the beds goes down, I'll add more worm cast, compost and, in winter, wood ash. That way, I can maintain the fertility in those beds and keep weeding to a minimum. I'll continue to raise seedlings and pop them into the growing medium whenever there is room. 
Seeds to sow
April is a great time to raise seedlings that can stand through the winter and then reward you with rapid growth in the spring. Direct sow beetroots, broad beans, lettuce, pak choi, parsley, radish, shallots, spinach, tat soi and turnips. In milk bottles or trays in a sheltered part of the garden, you can sow Brussels sprouts and endives.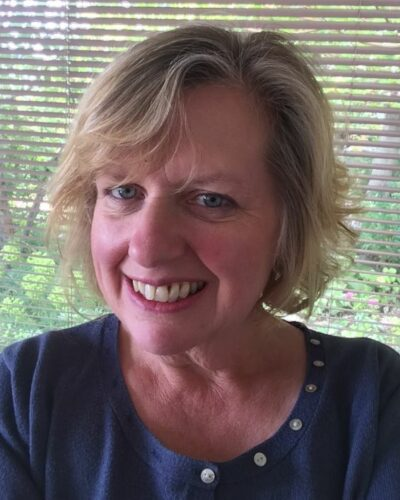 About the writer
My name's Pamela and a few years ago, at the age of 55, I made the decision to start a new adventure. I left the northwest of England, where I had lived all my life, and moved to New Zealand. I'm excited to be a guest blogger on Gardenize, and I love writing about my garden in beautiful, sunny Alexandra in Central Otago. My garden here is about as different as it could get from the damp, shady garden I left behind. Central Otago is the hottest, driest, coldest area in New Zealand, as we have hot summers and cold winters, along with a semi-arid climate. The area is famous for its orchards and vineyards. It has many quaint little rural townships with pretty cottage gardens featuring peonies, bearded irises, hollyhocks, lilies, roses, and lavender that grow so well here. The landscape is spectacular, with dry, rocky mountains and impossibly blue lakes and rivers. The dry mountains look barren, but they've actually covered in tough little thyme plants: a great clue to what might grow well in the garden.
GARDENIZE GARDEN APP
A gardening friend with a green thumb and photographic memory
Gardenize is an app for gardening and cultivation that helps you to overview, understand and develop your garden and your gardening skills.
Order makes it easier to succeed and Gardenize structures information and photos and makes it searchable for you. You also get tips and inspiration from other Gardenizers around the world.
Gardenize is free to use and you can download Gardenize from the App Store or Google Play, or create an account the Gardenize web app for web browsers.
Get to know Gardenize better here.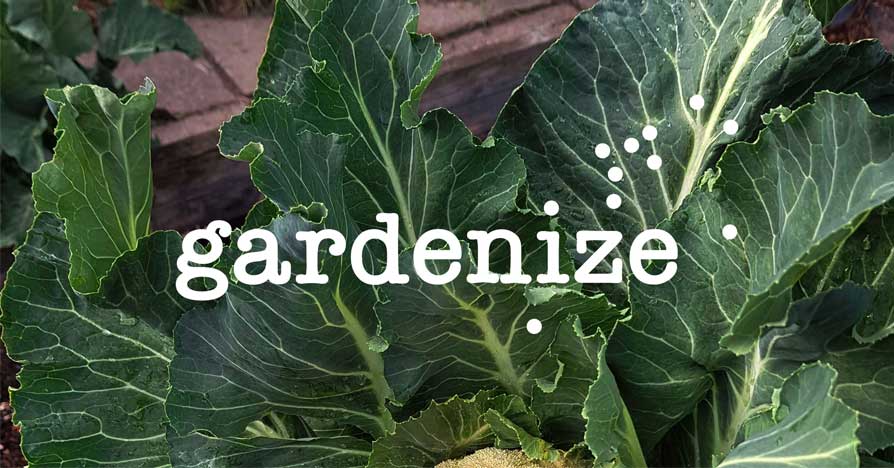 More to read from Gardenize