Upside-down gardening:

Febr

uary

in Central

Otago
Preparing for autumn! Late season colour, agapanthus, hydrangeas, sweet peas and how to save money by getting food from the garden. Also, seeds to sow in February.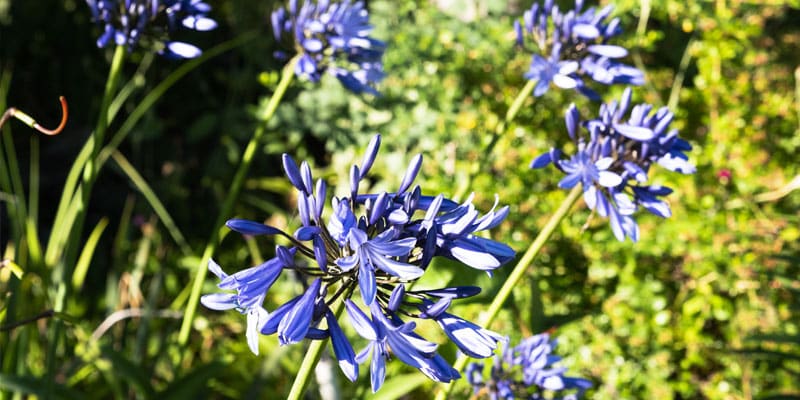 Agapanthus
The picture at the top of this blog shows agapanthus blooming. Soon, there will be red hot pokers (knifophia) in the same bed, providing a vivid contrast to the blue. It can be hard to keep up the colour at this time of year, as the sun is fierce and our thin soil dries out very quickly. One way to combat this is to use the principle of the right plant in the right place. When you discover a plant that thrives in your garden, add different varieties of the same plant. Agapanthus are common in New Zealand. My husband calls them motorway plants, because they line the motorways in Auckland. In some areas, they have become so successful that they are considered a weed. Here in Central Otago, though, they are not invasive, just easy to grow. There are several different varieties in white, violet and every shade of blue. You can also get them in different sizes, ranging from less than knee high to over my head. A range of these tough plants would look amazing in the dry, exposed parts of my garden where other plants struggle to grow.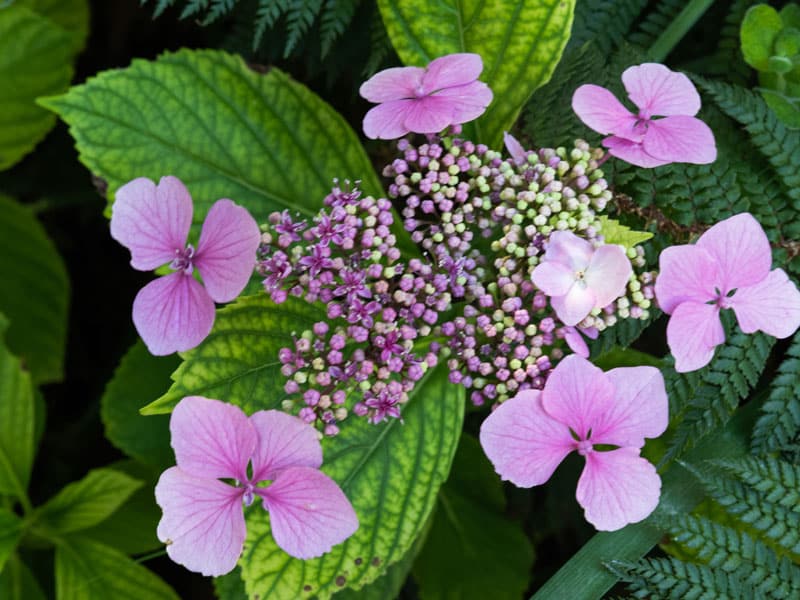 Hydrangeas
Hydrangeas are less tolerant of harsh sun and dryness. This one has struggled a little in the past, and its leaves are still a little yellow. It lives in the shade of a large maple and I managed to revive it by pruning it hard. Hydrangeas are very easy to propagate. Whenever I prune this one, I push a few pieces of it into the ground. Now we have young hydrangea bushes in various shady parts of the property and they are doing well. They act as insurance, in that, if this plant fails, I'll still have its offspring to take over. Hydrangea flowers are bluer on acid soil, so although this hydrangea was bred to be pink, I am trying to encourage more blue tones in it by giving it kombucha dregs, kefir whey, tealeaves and pine needles. We also mulch the whole garden as much as we can, which gradually increases acidity. I suspect that the yellowness of the leaves may be caused by a lack of iron, which many plants in over-alkaline soil can suffer from. I'm going to try treating it with ferrous sulphate.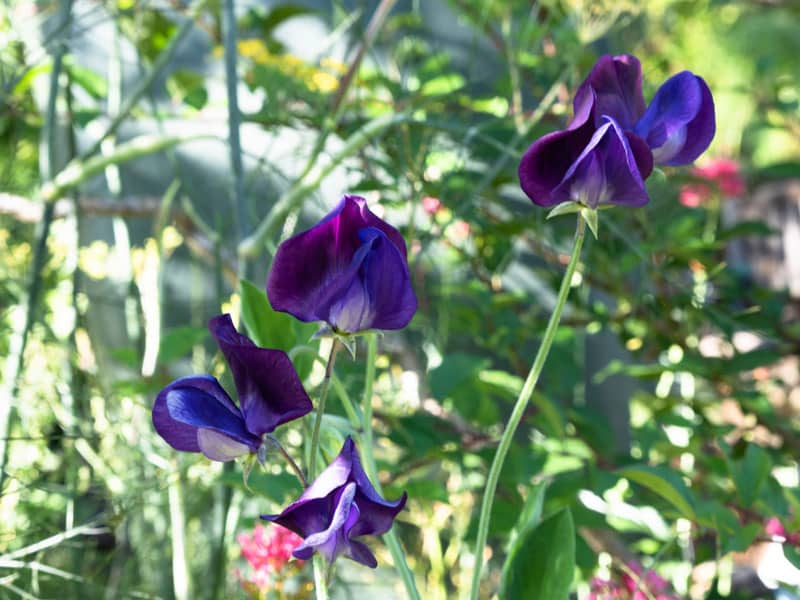 Sweet peas
I grew these sweet peas from seeds taken from a friend's plant last autumn. I didn't soak them or nick the outer coating: I just planted them in coir in a milk bottle and left them outside through the winter. Now, they are climbing up some twisted willow sticks and helping to disguise the worm farms, vastly improving the view through my sewing room window. They are beginning to form seed pods, so I'm hoping they'll create a little colony without any further help from me. 
Food from the garden
With the price of fruit and vegetables rising in New Zealand, it makes sense to grow as much food as you can. For most people, complete self-sufficiency is too difficult to achieve, but you'd be surprised at how much produce you can get from your garden. If you care for your soil by using home-made compost and mulches rather than chemical fertilisers, you can save money and grow nutrient-dense food. If you then save seed from your successful plants, you can save money and breed plants that are more likely to thrive in the particular conditions in your garden. 
The Gardenize app is free, so it makes a great place to record what you have in your garden and how your plants are progressing.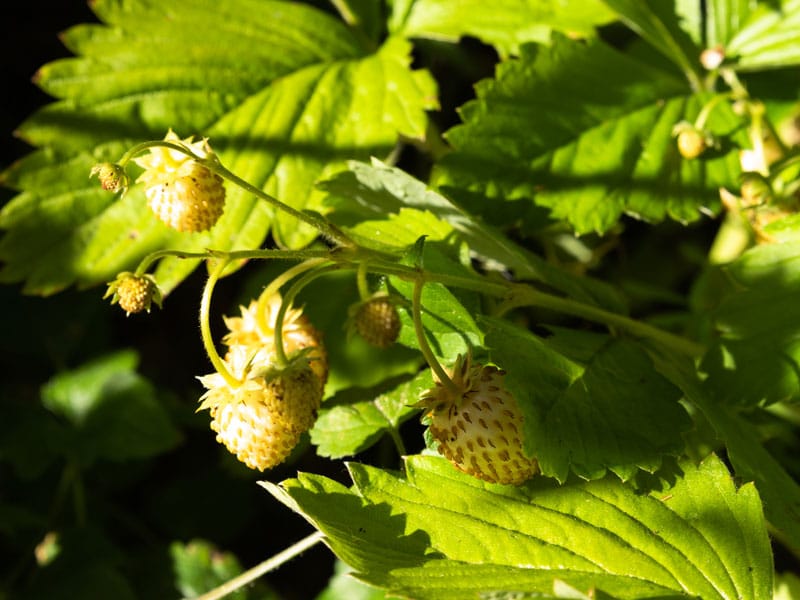 Alpine strawberries
I find the more traditional, plump, red strawberries rather difficult to grow. I tried growing some in a strawberry pot on our balcony and they just fried in the sun. These yellow alpine strawberries are easy in a shady spot. They don't seem to be bothered by slugs or snails and the colour seems to deter our cheeky blackbird. I bought one plant a few years ago and divided it up. Now I have several edging the rhododendron bed and they provide me with sweet, juicy snacks when I am working in the garden.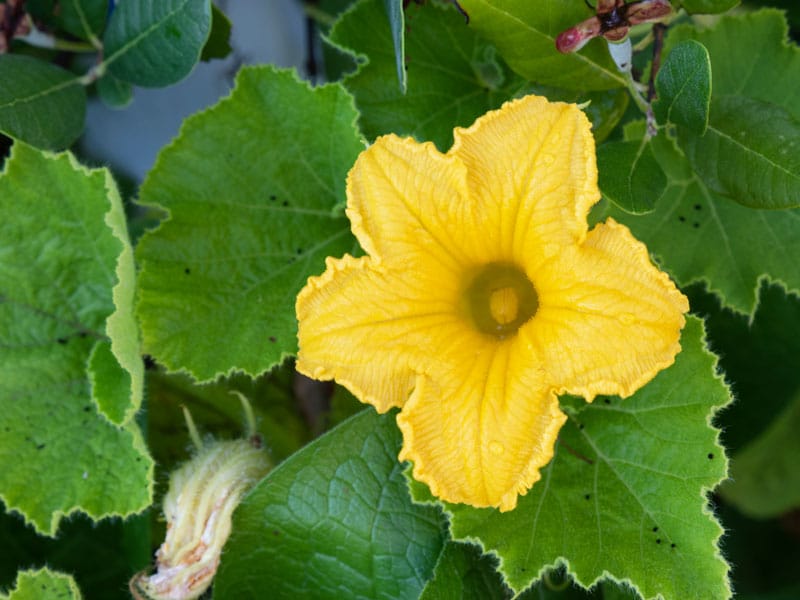 Pumpkins
In late spring, I mulched a slightly neglected area of the garden with a layer of cardboard, topped with partly decomposed woodchip. It had been mulched with schist by previous owners and the soil was very poor. I plan to make it an extension of the vegetable bed. The first few seedlings that I planted out failed, but I have a few pumpkin plants under a feijoa and surrounded by comfrey. They seem to be doing well. I suspect that it is because they are shaded by the feijoa and fed by the comfrey, which I chop and drop. I'm hoping that they will help to get this area going. Even plants that fail have value in encouraging life in the soil.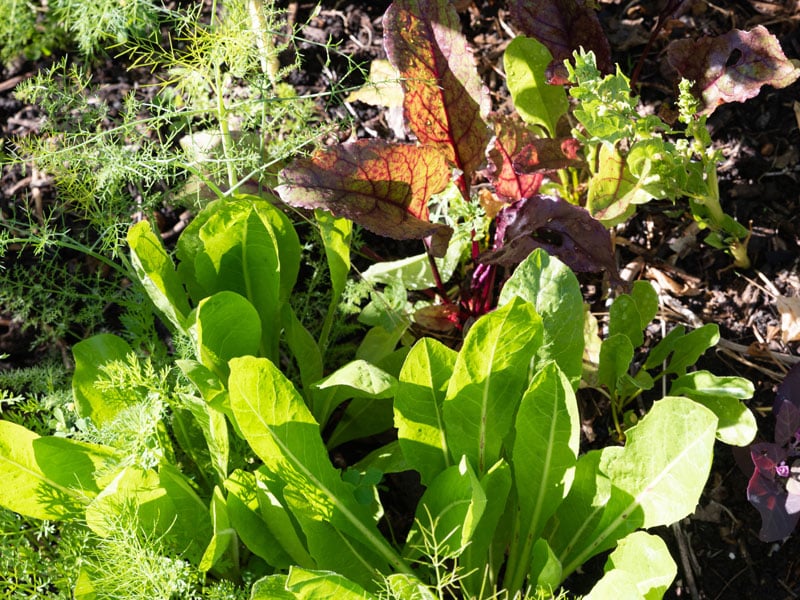 Radicchio, beetroot and orach
Even a tiny few leaves on your plate make your food more appetising and keep you healthier. In this heat, lettuce bolts, but I can rustle up a nice little side salad with a few young beetroot leaves, some orach, parsley and chives. I have never grown either radicchio or orach (mountain spinach) before. I'll certainly grow orach (lower left of the picture) again. It has a beautiful dark red colour suggestive of the antioxidants that are so good for our health. It makes a good alternative to spinach at a time when most salad greens are bolting , and it looks pretty on your plate. Those leaves that look like slightly fuzzy dandelion leaves are the young leaves of radicchio. I'm hoping that as the year progresses, crunchy, bittersweet heads will form, so that I will still have a variety of salad leaves in winter.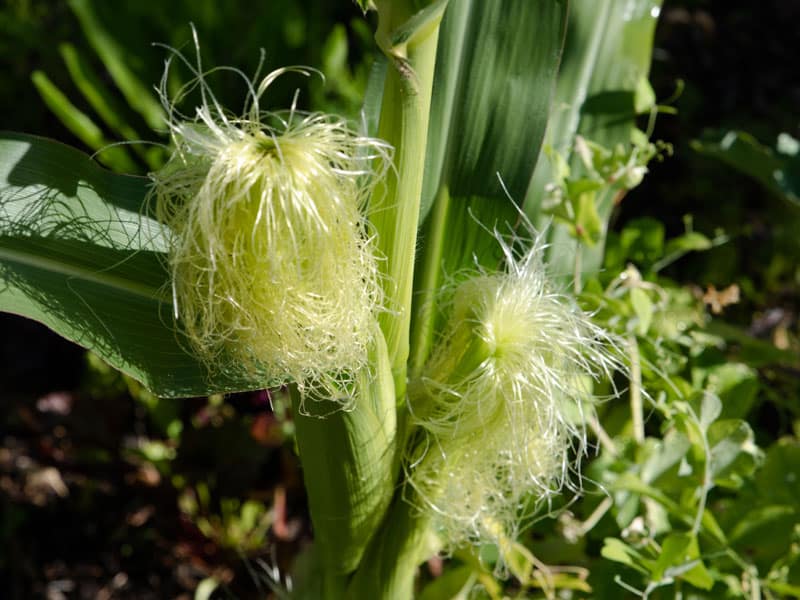 Corn silks
This is the first time I have tried growing corn. I have just three plants at the back of the vegetable bed, which may not be enough to ensure pollination. They have been great fun to grow, as they grow so quickly. These silks seemed to appear within just a few days after the male parts appeared. They are the female parts of the plant, so that is where the corn cobs will develop.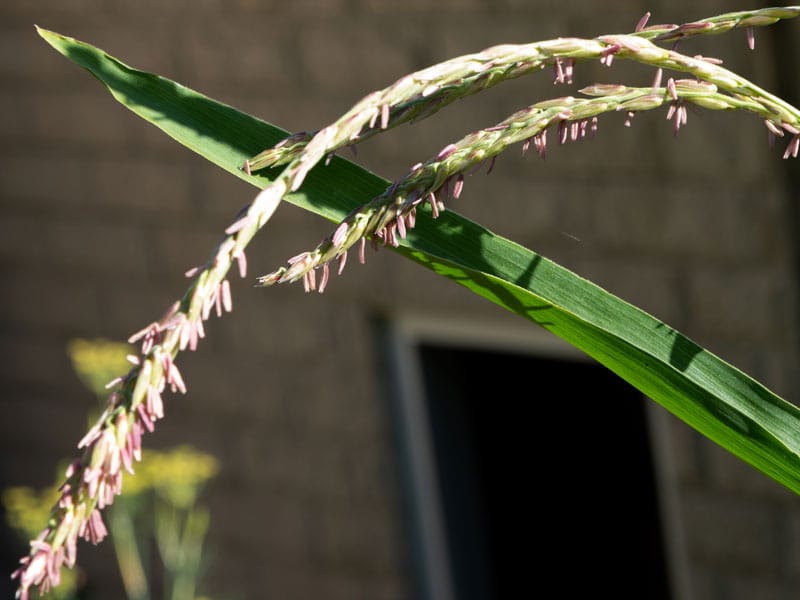 Corn tassels
When you see the pollen hanging off the male parts of the corn plant, it is easy to see that corn is really just a giant grass. The pollen falls off onto the silks below to cause the seed to form.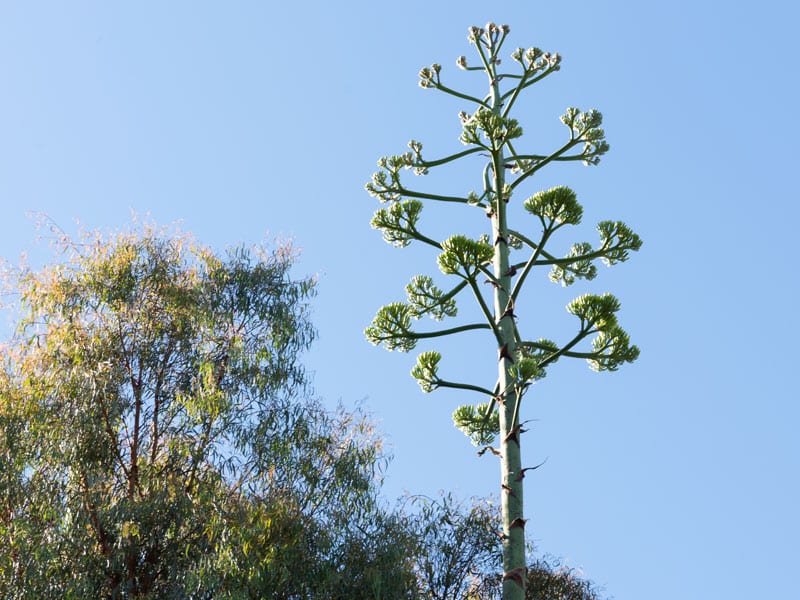 The century plant
The century plant (agave) above our house has grown even larger. 
February is the end of summer and the weather is a little cooler, making it pleasanter to work in the garden. Getting seeds started for planting out in autumn is a high priority. 
Seeds to sow
You can direct sow beetroots, carrots, swedes (rutabaga) and radishes. In milk bottles or trays in a sheltered part of the garden, you can sow broccoli, cabbage, cauliflower, fennel, kale, leeks, lettuce, onions, rocket, shallots and turnips. I'm less interested in growing unusual things since vegetables became more expensive at the supermarket, so I'm going to prioritise onions, shallots, leeks, carrots and swedes. I already have kale and celery seedlings ready to go in the ground. I'm aiming to have a good, all-round supply of alliums, root crops and greens.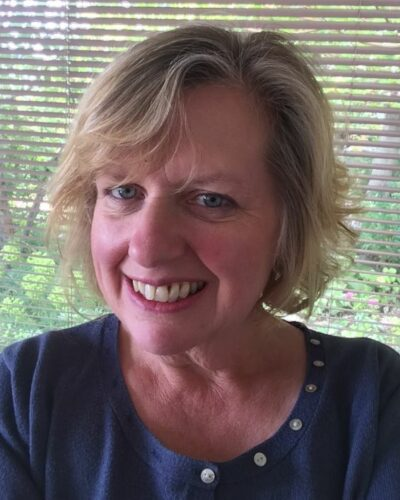 About the writer
My name's Pamela and a few years ago, at the age of 55, I made the decision to start a new adventure. I left the northwest of England, where I had lived all my life, and moved to New Zealand. I'm excited to be a guest blogger on Gardenize, and I love writing about my garden in beautiful, sunny Alexandra in Central Otago. My garden here is about as different as it could get from the damp, shady garden I left behind. Central Otago is the hottest, driest, coldest area in New Zealand, as we have hot summers and cold winters, along with a semi-arid climate. The area is famous for its orchards and vineyards. It has many quaint little rural townships with pretty cottage gardens featuring peonies, bearded irises, hollyhocks, lilies, roses, and lavender that grow so well here. The landscape is spectacular, with dry, rocky mountains and impossibly blue lakes and rivers. The dry mountains look barren, but they've actually covered in tough little thyme plants: a great clue to what might grow well in the garden.
GARDENIZE GARDEN APP
A gardening friend with a green thumb and photographic memory
Gardenize is an app for gardening and cultivation that helps you to overview, understand and develop your garden and your gardening skills.
Order makes it easier to succeed and Gardenize structures information and photos and makes it searchable for you. You also get tips and inspiration from other Gardenizers around the world.
Gardenize is free to use and you can download Gardenize from the App Store or Google Play, or create an account the Gardenize web app for web browsers.
Get to know Gardenize better here.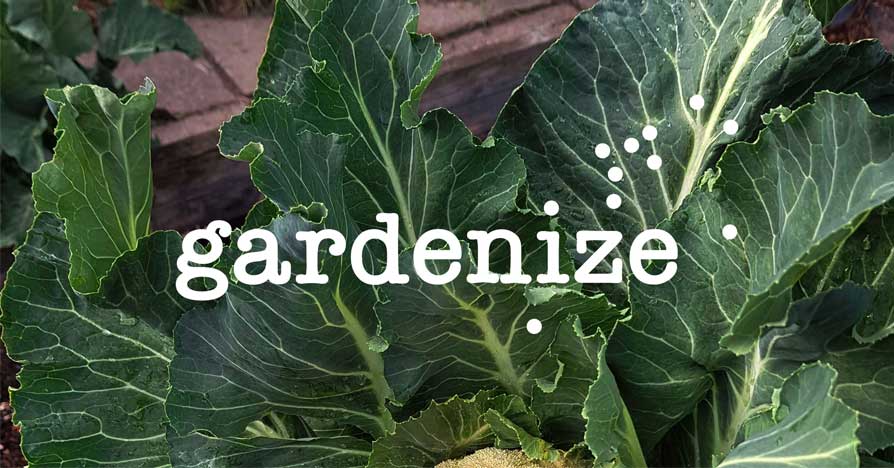 More to read from Gardenize