GROWING YOUR OWN CHRISTMAS DINNER
Have you ever thought about growing your own Christmas dinner?  Obviously not all the elements of a typical Christmas dinner can be grown, and it is too late for this year.  However, with a bit of planning, you can grow many of the fruits and vegetables that are part of a traditional Christmas dinner, and next year you will have the satisfaction of having not only cooked it but also grown it yourself.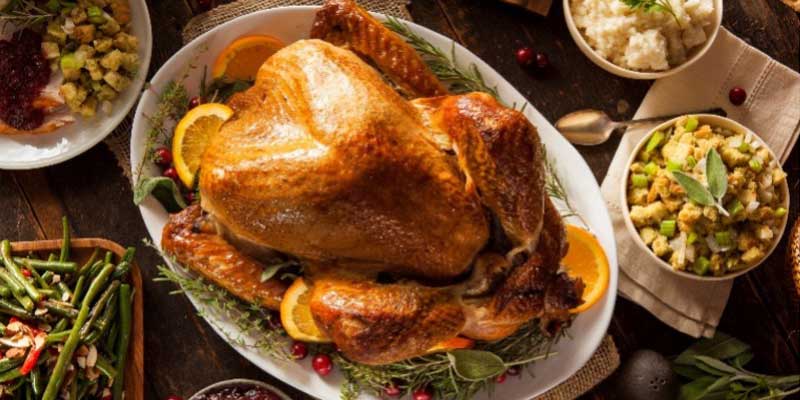 Of course, not everyone eats the same food at Christmas.  I'm going to assume that you might choose from some of the fruit and vegetables on the menu below and talk about how you can produce them yourself in order to have them ready for Christmas. 
Menu
Roast turkey/beef/ duck/ goose 
Roast potatoes/new potatoes 
Carrots 
Parsnips 
Brussels Sprouts 
Cranberry Sauce 
Sage and Onion stuffing 
~~~~ 
Raspberry Trifle 
The traditional dessert which follows the main course in the UK is, of course, Christmas pudding – admittedly, not many of the ingredients for this can be grown in a garden or on an allotment, but, if you have grown and frozen plenty of raspberries, you could, instead, make a trifle with them. So, I'll include a paragraph on growing and freezing raspberries, just in case you decide to go for this alternative. 
POTATOES
It's possible that you will still have potatoes that you've stored from the ones you grew in the summer.  If you want to make sure of having fresh potatoes on Christmas Day, however, you could always try growing them in bags or specialist containers.  These should be at least 30cm deep and have drainage holes in the bottom.  In this case, you will use cold-stored potato tubers that are available from seed merchants in July and August.  First and second early varieties such as "Charlotte", "Nicola" and "Maris Piper" are suitable.  
Place a 10cm deep layer of potting compost or garden soil mixed with garden compost in the base of the container.  

 

Plant one to three tubers per pot, and cover with 15cm of soil.  Earth up the potatoes as the foliage develops until the container is full to within about 5cm of the top.

 

Keep well-watered and feed, and ensure the potatoes are kept frost-free as potato foliage is damaged by frost.

 
When the foliage dies down in late autumn it can be removed, and the potato tubers can be left in their pots in compost until Christmas.  Keep the compost fairly dry at this stage.

 
These can be boiled as new potatoes and garnished with fresh parsley or mint, or parboiled and then roasted, perhaps with a sprig of rosemary for flavour.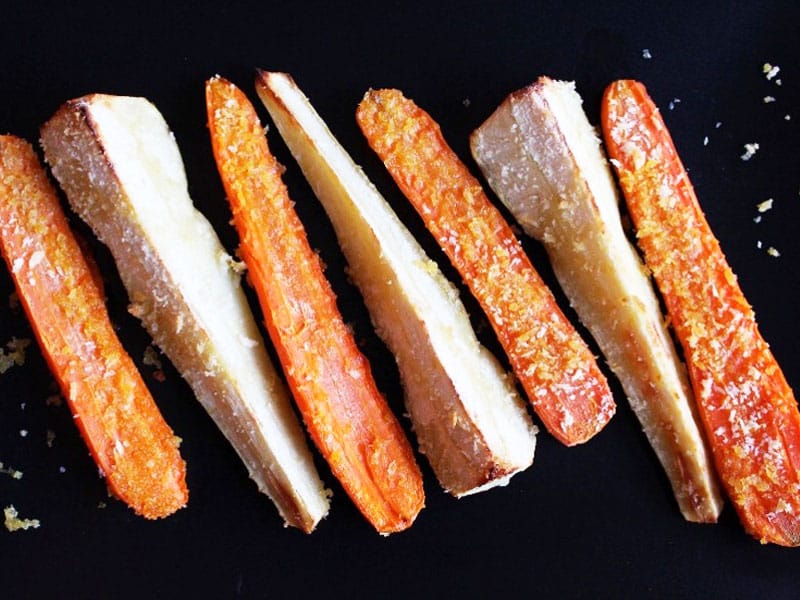 PARSNIPS AND CARROTS
Parsnips are sown in the spring and prefer an open sunny site with light soil.  They should be sown before the other vegetables, as they often take a long time to germinate and get going.

 
The soil can be warmed with cloches which are left in place until the seedlings have developed two true leaves.  When the seedlings are about 3cm high they are thinned out to leave one every 15cm.

 

The roots are ready to lift once the foliage dies down in late summer or autumn.  However, they can be left in the ground and harvested later, even when there has been a frost.  In fact, lightly frosted roots are said to have the best flavour. If you mulch around the plants with straw, it will prevent the ground from freezing around them. You can store unwashed parsnips in a cool, dark place once you've lifted them.

 
Maincrop carrots are also sown in the spring and can be left in the ground until required.   
They should be earthed up during the summer to prevent the tops from going green.

 

However, as an insurance against loss, it's a good idea to lift and store some of your carrots in boxes of damp sand. 

You could also sow a late crop of 

carrots

 in September into containers of moist, sieved soil in the greenhouse.

 
In this way, you should have enough root vegetables to supply the Christmas dinner.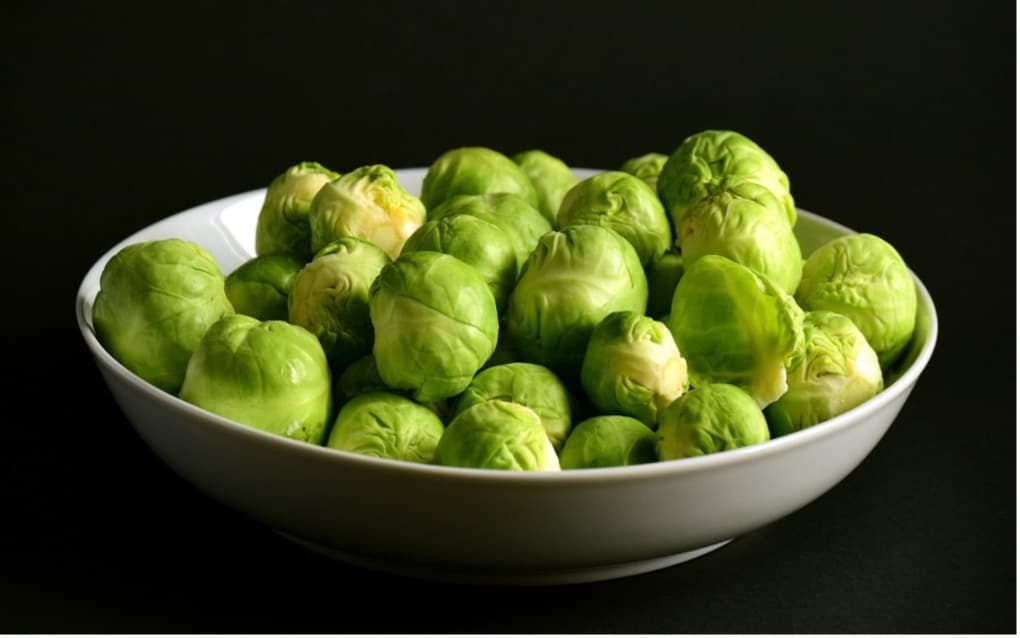 BRUSSELS SPROUTS
It has to be said that not everyone loves Brussels Sprouts.  However, they are a feature of the traditional Christmas dinner, and they are available to pick at this time of year.  So, on that basis, they have a right to be included! 
The seeds of Brussels sprouts can be sown in the greenhouse in May, and they are planted out, having been hardened off, in June.  

 

Like all brassicas, they should be planted deeply and firmed in well.  

 

They may need protection with mesh from white butterflies which lay their eggs on the leaves and from aphids which can be deterred by a jet from the hose or with a soap spray.  You can also plant nasturtiums nearby, as these act as a sacrifice plant that will attract caterpillars.

 

Plants may need staking, as they can grow quite tall, and, when there are plenty of "buttons", cut the tops off so that the plant's energy is directed towards maturing the sprouts.

 

On Christmas Eve cut down a whole stem and harvest the sprouts that you will need for the following day.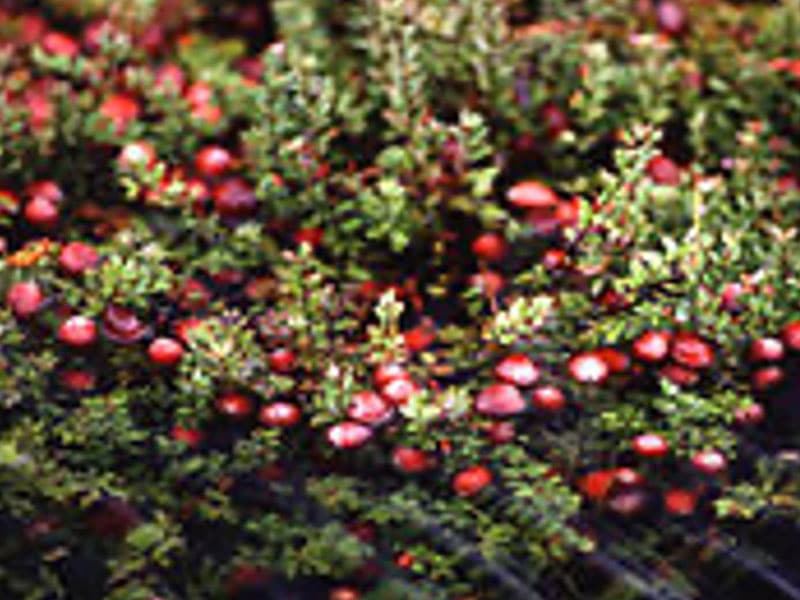 CRANBERRY SAUCE
Yes, you can grow cranberries in the UK!  The cranberries I planted a few years ago have finally produced enough berries to make a bowl of cranberry sauce. 
Cranberries need acidic, well-drained soil and they like to be damp.  

 
The bushes grow to about 20cm tall and have a spread of approximately 90cm, so should be planted about 30cm apart to allow for spreading. 

 

Like strawberries, cranberries produce runners which can either be pruned or pegged down to create new plants.  

 

Apply a mulch of acidic bark when you first plant your cranberries and re-apply it in January/February.   You can also give them a dose of acid-based fertiliser to get them off to a good start in spring.

 

The berries can be harvested in September/October and can be stored for over a month in the fridge, or they can be frozen or dried.  If you want to make cranberry sauce to have with your turkey on Christmas Day, this can also be made in advance and frozen until the day before it's needed.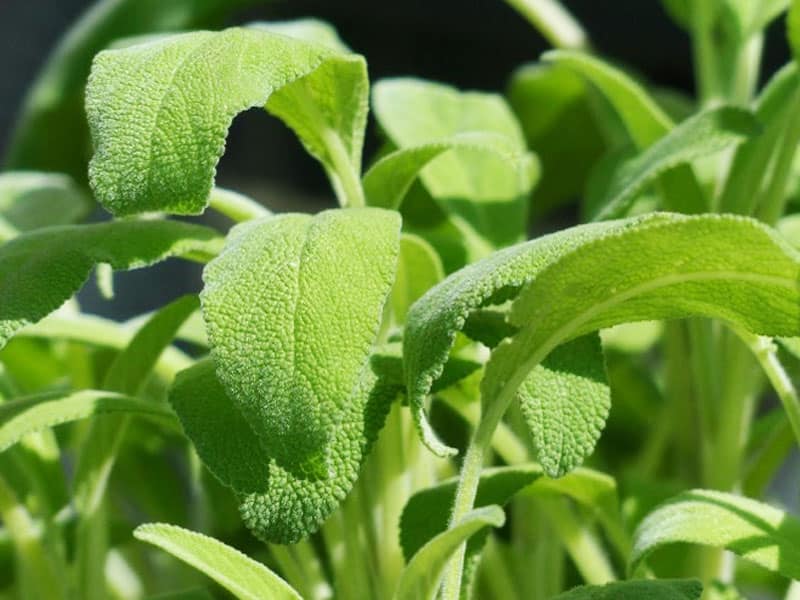 SAGE AND ONION STUFFING
There are many stuffing recipes which are suitable for the Christmas dinner table, but, if you have sage in your garden and if you've grown onions, you are most of the way towards making a sage and onion stuffing. 
Sage (

Salvia officinalis

) is a low-growing Mediterranean shrub which produces purple flowers, much loved by bees.  

 

It is evergreen, and so its leaves are available to pick in December to cut up and use in your stuffing.

 
Onions can be grown from seed, or, to save time, they can be grown from sets which are planted in the spring.

 

The sets should be planted 2cm deep in drills or gently pushed into loose soil so that the tips are just showing above the surface.  Space them 5-10cm apart in rows 25-30cm apart.

 

Onions are ready to harvest when the foliage turns yellow and topples, usually in late summer or early Autumn.  Ripen the bulbs for two weeks in full sunshine or in a greenhouse or shed until the foliage is dry before storing.  

 

Onions can be tied in plaits and hung up or stored on trays or in nets in a light, cool, dry, well-ventilated place.  If you store them in the dark, this will encourage sprouting.

 

Stored in this way, onions should last through the winter and should be available for making sage and onion stuffing.  Or, if you make bread sauce, place an onion studded with cloves in the warmed milk before you add the breadcrumbs.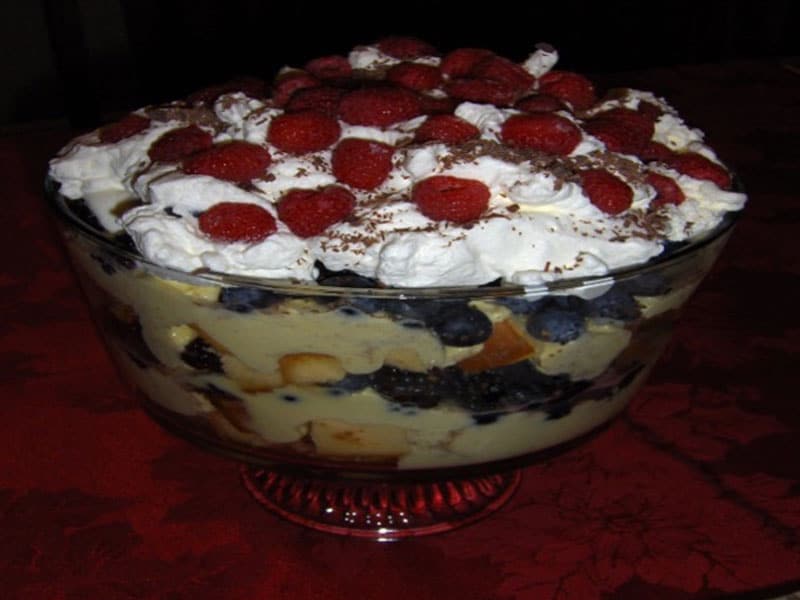 RASPBERRY TRIFLE
Finally, the dessert.  If, instead of a Christmas pudding, you've decided to make a trifle, you could use the raspberries that you grew during the summer and which you've frozen, ready for the occasion. 
Raspberries grow best in fertile, moisture-retentive sun, preferably in a sunny position.

 

They can be planted any time during the dormant season between November and March, although Autumn is the best time to plant them.

 
Before planting, dig in plenty of well-rotted manure and apply a general fertiliser, such as bonemeal.

 

Space the plants 45-60cms apart and the rows 1.8m apart.  Put supports in place at the time of planting because they will grow quite tall.

 

The first summer raspberries will be ready for harvesting in early summer, whereas autumn varieties fruit in late summer and will often continue until the late frosts.

 

Harvest raspberries regularly and pick them on a dry day so that the berries aren't wet.

 
In order to have raspberries ready for Christmas Day, the best thing is to freeze them in containers and take them out a day or so before you want to make your trifle.  Raspberries freeze well and can be stored in the freezer for up to 12 months.  Blackberries and blueberries can be frozen in a similar way and can also be added to the trifle. 
Of course, there are many other fruits and vegetables that you could consider cooking at Christmas.  When you're planning what to grow, the main thing is to check what can be harvested fresh at that time of year (such as Brussels sprouts) and what has to be stored, either in a greenhouse or shed (such as parsnips and carrots) or frozen, as in the case of raspberries or other types of soft fruit.  Then all you have to do is to enjoy it!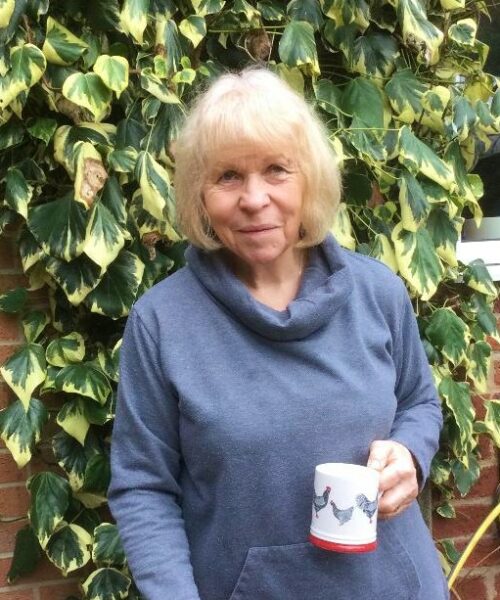 ABOUT THE AUTHOR
Caroline Bowman has been hooked on gardening ever since she grew some thyme from seed and planted it in a window box when she lived in a flat in London. Fifty years later she is still hooked on gardening, but now she lives in Lincolnshire in England where they have quite a big suburban garden as well as an allotment, where they grow fruit and vegetables. Caroline loves flowering plants, in particular, herbaceous perennials and she likes finding out about the more unusual varieties that will do well in the English climate and soil.
GARDENIZE GARDEN APP
A gardening friend with a green thumb and photographic memory
Gardenize is an app for gardening and cultivation that helps you to overview, understand and develop your garden and your gardening skills.
Order makes it easier to succeed and Gardenize structures information and photos and makes it searchable for you. You also get tips and inspiration from other Gardenizers around the world.
Gardenize is free to use and you can download Gardenize from the App Store or Google Play, or create an account the Gardenize web app for web browsers.
Get to know Gardenize better here.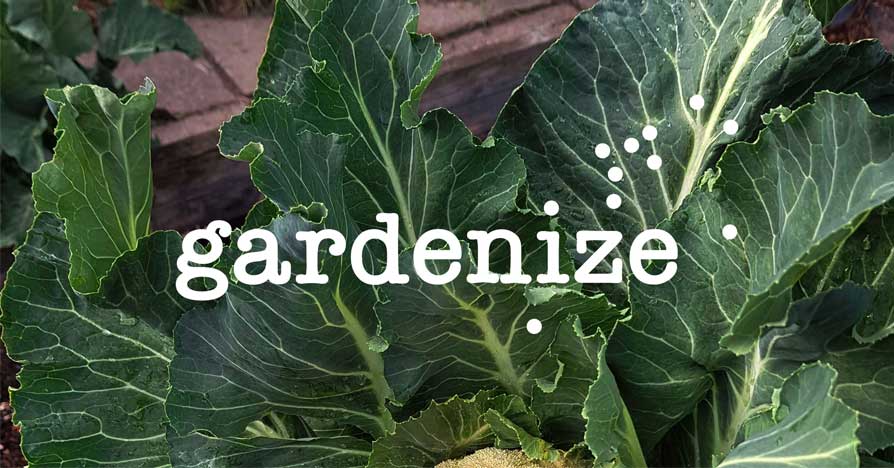 More to read from Gardenize