Upside-down gardening: February in Central Otago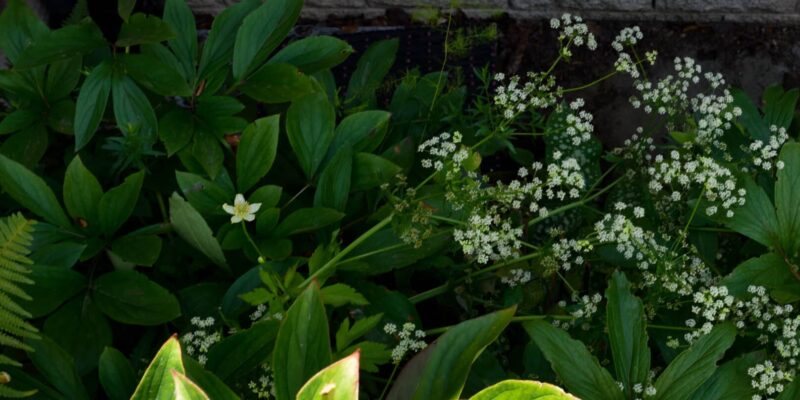 The kinder part of summer
Now that the equinox has passed, we can look forward to a mellowing of the season. Above is a cooling arrangement of dark green and creamy white: a happy accident where celery that had begun to flower in the vegetable garden had flopped over into the shady flower border below it.
In the flower beds that are in full sun, I like to have orange and blue flowers together. They are from opposite sides of the colour wheel, so they look really bright together.
Blue agapanthuses
Agapanthuses originate from Africa but grow very well in New Zealand and are quite common. This means that they are completely reliable too. They come in a range of sizes, and in white, as well as a wide range of blues.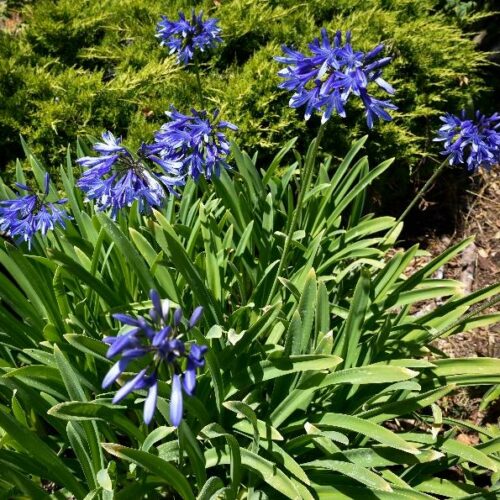 Orange kniphofias
Kniphofias, or red-hot pokers, also originate from Africa. The commonest form starts off dark orange and then the lower flowers turn yellow, making them look like metal that is red hot at the tip and cooling to yellow. Some fantastic varieties have been bred, including red, yellow, peach and even greenish forms in a range of different sizes. They are very easy to grow and clump up nicely, meaning that if you want build up a good supply, it is easy to split them and spread them around. The lilies are mainly over now, but this orange tiger lily was late, making a great combination with the kniphofia in a similar colour.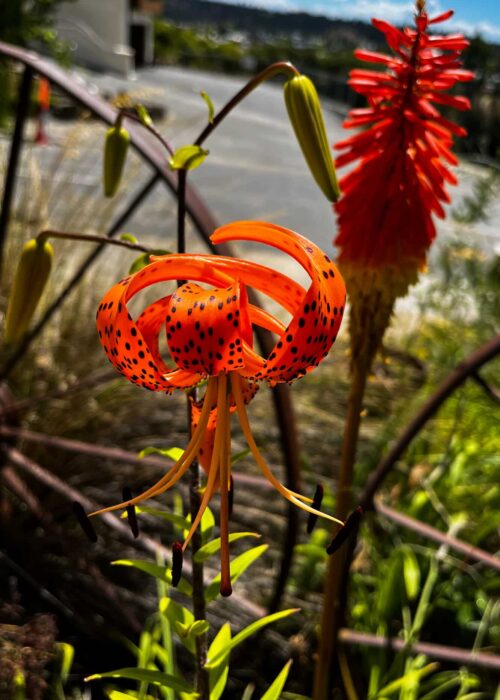 Vigorous rosemary
Rosemary looks better with a harsh haircut, and now that the bees have enjoyed the flowers and the chaffinches have feasted on the seeds, it's a good time to prune both the prostrate and the upright forms. There's no special method, just decide what shape you would like it to be and aim for that. You are very unlikely to kill it. Like lavender, it's very easy to propagate, if you want to. All you need to do is strip the lower leaves off the bottom of some of your prunings and push them into the soil. You can make a fragrant hedge that way and you can even topiarise it. I find the prostrate rosemary tastes rather bitter in cooking, and both forms grow so vigorously here that I don't need many plants. Upright rosemary is delicious with potatoes and makes a classic combination with lamb. I like to put a sprig inside the cavity of a chicken before roasting. It's also good combined with bay, thyme and sage in stews, especially with venison.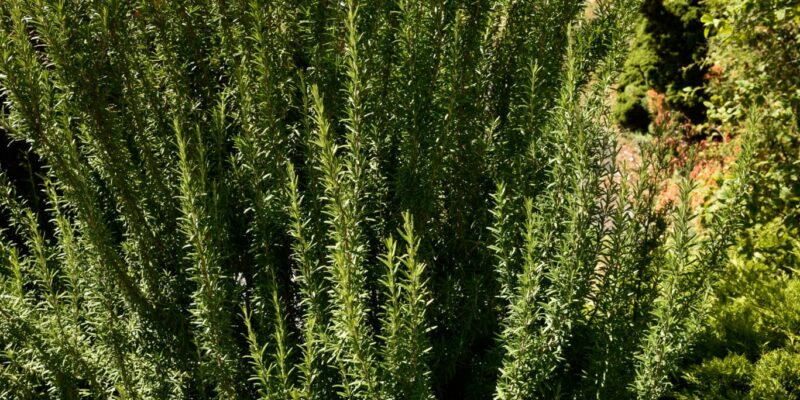 Plentiful oregano
Oregano self-seeds and grows like a weed here, more proof that Mediterranean plants are extremely well-suited to the Central Otago sunshine and sharp drainage. I find it very useful, especially for tomatoey pasta dishes, but also for soups and stews, focaccia, savoury scones and pizza. Fresh herbs are a million times better than dried, especially when you can just pop out and get some from the garden. Soft herbs, like oregano, parsley and basil are best in generous quantities. Add handfuls of the leaves, roughly chopped or torn, right at the end of cooking to retain their nutrients and flavour.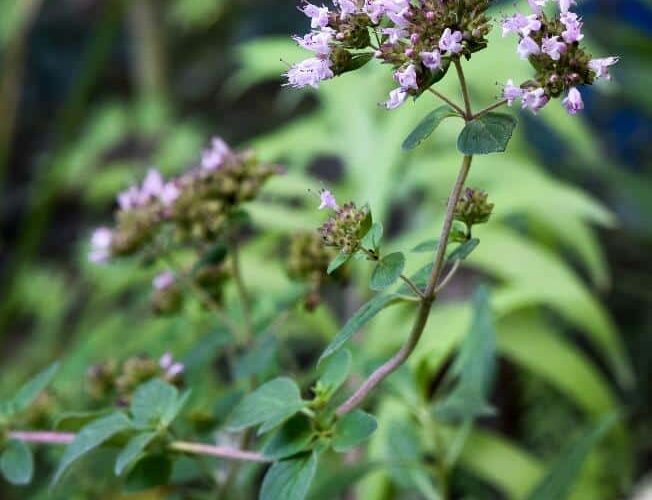 Trialling a seed-sowing method
I have tried out a method of seed-sowing that I saw on an old episode of Gardeners' World. I cut through the side of a plastic milk bottle, leaving a hinge, then put coir in the bottom, sprinkled pak choi seeds on it and covered them with a thin sprinkling of vermiculite. I watered it sparingly (there are no drainage holes) and put it in a sheltered spot in the garden in dappled shade. Eight days later, I could see healthy little seedlings, if a little too densely sown. The idea is that the milk bottle provides ventilation, humidity and shelter from wind and harsh sunlight. I'm very pleased with this method so far, so each time we use up a bottle of milk, I'll sow some more seeds the same way. I've already sown some lettuce seeds, in the hopes that the weather will be cool enough to allow me to harvest some lettuce leaves before the lettuces bolt.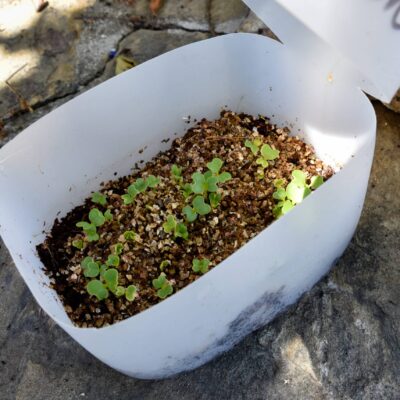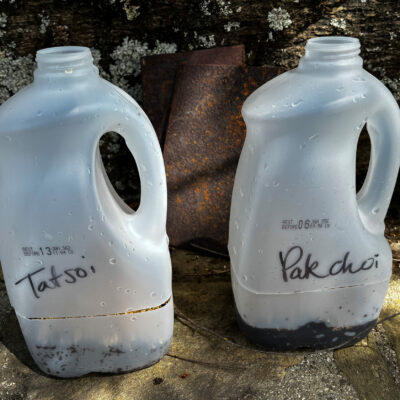 Jobs to do in the garden in February
Prune rosemary. Don't be afraid to cut it back hard to make a nice shape.
Make a note of plants that need to be moved. You could set up an event in Gardenize to remind you, so that when autumn comes, you can dig them up and transplant them.
Sow seeds of beetroot, broccoli, cabbage, carrot, cauliflower, fennel, kale, leeks, lettuce, onion, parsley, swedes and shallots.
About the writer
My name's Pamela and a few years ago, at the age of 55, I made the decision to start a new adventure. I left the northwest of England, where I had lived all my life, and moved to New Zealand.  I'm excited to be a guest blogger on Gardenize, and I love writing about my garden in beautiful, sunny Alexandra in Central Otago.  My garden here is about as different as it could get from the damp, shady garden I left behind. Central Otago is the hottest, driest, coldest area in New Zealand, as we have hot summers and cold winters, along with a semi-arid climate. The area is famous for its orchards and vineyards. It has many quaint little rural townships with pretty cottage gardens featuring peonies, bearded irises, hollyhocks, lilies, roses, and lavender that grow so well here. The landscape is spectacular, with dry, rocky mountains and impossibly blue lakes and rivers. The dry mountains look barren, but they've actually covered in tough little thyme plants: a great clue to what might grow well in the garden.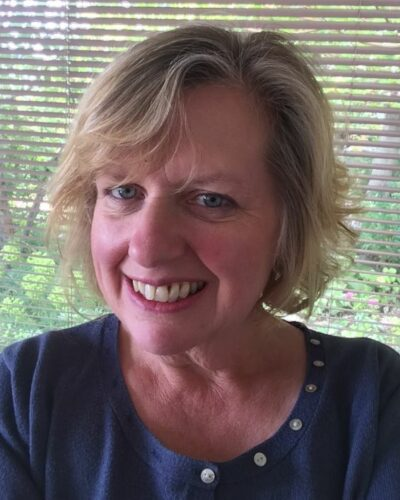 GARDENIZE GARDEN APP
A gardening friend with a green thumb and photographic memory
Gardenize is an app for gardening and cultivation that helps you to overview, understand and develop your garden and your gardening skills.
Order makes it easier to succeed and Gardenize structures information and photos and makes it searchable for you. You also get tips and inspiration from other Gardenizers around the world.
Gardenize is free to use and you can download Gardenize from the App Store or Google Play, or create an account the Gardenize web app for web browsers.
Get to know Gardenize better here.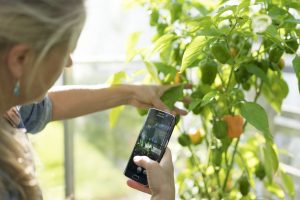 More to read from Gardenize
Images published on the Gardenize website belong to Gardenize AB and may not be used without permission.