Cut flowers are flowers that are grown to be cut, more simply put – be picked. It can feel as luxurious to serve dinner with home-grown vegetables as to decorate the dinner table with home-grown flowers. Or even better – give a bouquet with your arrangement design to a friend at the birthday or dinner party. Did you know that virtually all cut flowers are industrially grown and that many varieties are imported? The industrial cut flower industry is not environmentally friendly, far from. This year it's time to complement the vegetable you grow with cut flowers in a patch!
Benefits of growing cut flowers
A flower shop at home where everything is completely free!
Harvest all summer – the more you pick, the more flowers you get for most varieties.
Bees and insects that eat nectar and pollen will love you! And they quietly thank you by helping out with the pollination of fruits, berries and vegetables.
The diversity where you grow increases, which promotes soil health and life in the soil. The risk of soil fatigue and crop rotation diseases decreases. But keep an eye on the plant families. Most summer flowers belong to the family Asteraceae. Don´t plant vegetables in the same family, like lettuce or Jerusalem artichoke, in the patch the following season.
Tips for growing cut flowers
Where can you grow cut flowers?
If you are like me, it can take a bit to pick flowers from the usual flower beds. Of course, perennials are super nice in bouquets, but usually, you may not have so many of them that you want to pick them. Instead, set aside a whole bed or patch for flowers.
Or why not grow vegetables and cut flowers in the same bed. There is a French name for this 'Potager' or the flowering kitchen garden. Plant slightly lower flowers along the edges of a bed and tall narrow ones that can provide support for the vegetables in the bed.
Soil and fertilization when growing cut flowers
The vast majority of summer flowers that are suitable for cutting have equal or similar claims. They want to grow in a well-drained, slightly clayey soil with a neutral pH.
They want moderate nutrition, too much fertilizer leads to the development of a lot of leaves instead of flowers. Dahlia, Zinnias and Chinese asters want more nutrition and can therefore be co-grown with vegetables that have a great nutritional need, e.g. cabbage.
If you grow many plants in a small area, it is good to give a few doses of chicken manure during the growing season, preferably diluted in water, to prolong flowering.
Cut flowers´ needs of sun and water
The same applies here, cut flowers want to grow in full sun and with even and moderate to abundant watering depending on how hot it is. Just like the needs of vegetables.
Sowing and transplanting of cut flowers
In this aspect, different species need to be handled differently. Some are better and easier to sow directly on the spot. Others need to be sown indoors or transplanted as it is called, to have time to bloom profusely during the season.
Read more about sowing seeds here.
When it's time to plant out seedlings and transplants depends on the hardiness of the plant and the climate where you grow.
Here you can read more about the hardiness of annuals.
What cut flower varieties should you grow?
Characteristics: the garden's primadonna and comes in thousands of colours and shapes.
Sowing: can be sown from seed or planting of tubers. Tubers can be potted inside and planted outside then there is no risk of frost to make them bloom earlier.
Hardiness: Sensitive
Pre-cultivation time for seed sowing: 4-5 weeks
Variety tip: Cornell Bronze, Cafe au Lait, Preference, Waltzing Mathilda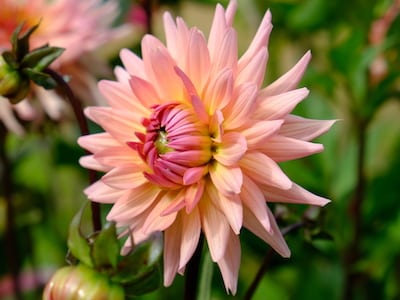 Characteristics: long vase life and can be dried as everlasting. Many beautiful colour combinations and shapes.
Sowing: sow indoors for transplanting
Hardiness: Sensitive
Pre-cultivation period: 4-6 weeks
Variety tip: Queen Lime Mix, Oklahoma Salmon, Super Cactus Seniorita
Zinnia 'Queen Lime Orange'
Characteristics: a bushy growing style that gives beautiful sheer flowers and lush foliage that fills the bouquet nicely.
Sowing: pre-cultivation indoors or direct sowing
Hardiness: Sensitive
Pre-cultivation period: 5-7 weeks
Variety tip: Rubenza, Rosetta, Sea Shells, Psychée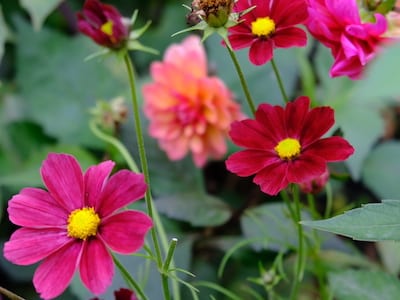 Snapdragon
Antirrhinum majus
Characteristics: beautifully shaped spires that give bouquets height, shape and variation.
Sowing: sow indoors for transplanting, cold winter sowing or direct sowing
Hardiness: Sensitive
Pre-cultivation time: 8-10 weeks
Variety tip: Chantilly Bronze, Potomac lavender, Madame Butterfly Bronze, Costa silver
Snapdragon 'Madame Butterfly Double Bronze'
China aster
Callistephus chinensis
Characteristics: superb vase life. Similar to dahlia in its expression but a bit quieter. Many beautiful colours.
Sowing: seed indoors for transplanting
Hardiness: Sensitive
Pre-cultivation period: 6-8 weeks
Variety tip: King Size Appleblossom, Kingsize apricot, Duchesse Coral Rose
China Aster 'Duchesse Coral Rose'
Strawflowers
Helichrysum bracteatum
Characteristics: The flower that never withers. Grow strawflowers for drying and arrange bouquets and wreaths for the darker seasons.
Sowing: sow indoors for transplanting, cold winter sowing or direct sowing
Hardiness: Hardy
Pre-cultivation time: 6-8 weeks
Variety tip: Silver rose, Bright Rose, Salmon Rose
Strawflower 'Bright Rose'
Marigolds, Calendula
Calendula officinalis
Characteristics: easy to grow, fits everywhere. Calendula flower leaves are edible and can be used to decorate pastries or salads or why not try making a calendula ointment.
Sowing: cold winter sowing or direct sowing
Hardiness: Hardy
Pre-cultivation time: 4-6 weeks
Variety tip: Solar Flashback, Triangle Flashback, Pink Suprise
Characteristics: The ornamental grasses are not the ones that shine the brightest. But in combination with flowers, they can take the bouquet to the next level.
Sowing: sow indoors for transplanting, cold winter sowing or direct sowing
Hardiness: varying
Pre-cultivation time: varying
Variety tip: Feathertop grass, Hare's Tail Grass, Canary grass, Greater quaking-grass
Bunny tail – Lagurus ovatus
Characteristics: exciting colours that complement the bouquet. The variety Cherry Brandy is a dark burgundy.
Sowing: sow indoors for transplanting or cold winter sowing
Hardiness: semi-hardy
Pre-cultivation time: 5-7 weeks
Variety tip: Sahara, Cherry Brandy, Cherokee Sunset
Cone flower 'Cherry Brandy'
Getting started with growing cut flowers
Select only a few species and varieties learn how to grow them.
Plant an edge of calendula or marigolds to your patch.
Buy a bag of mixed summer flowers seeds and sow them directly in an area or patch.
Remember to document which flowers and plants you grow in Gardenize. Then you will not forget the name of your favourites and can learn from your growing experiences to improve next season.
Good luck!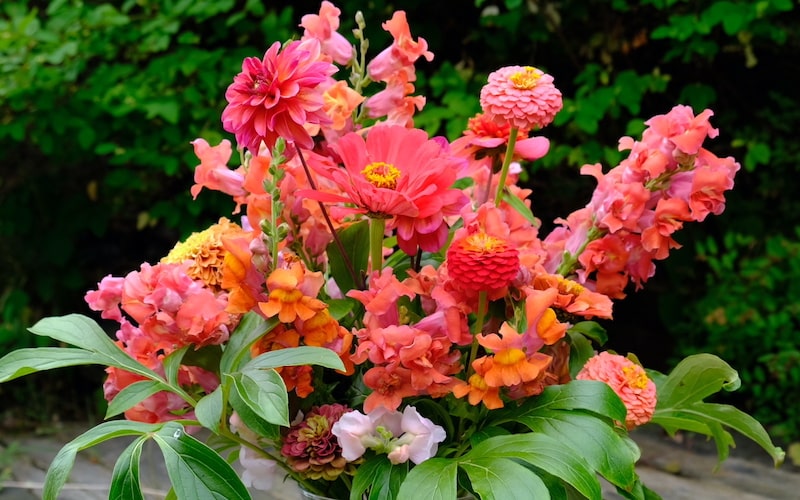 GARDENIZE GARDEN APP
A gardening friend with a green thumb and photographic memory
Gardenize is an app for gardening and cultivation that helps you to overview, understand and develop your garden and your gardening skills.
Order makes it easier to succeed and Gardenize structures information and photos and makes it searchable for you. You also get tips and inspiration from other Gardenizers around the world.
Gardenize is free to use and you can download Gardenize from the App Store or Google Play, or create an account for the Gardenize web app for web browsers.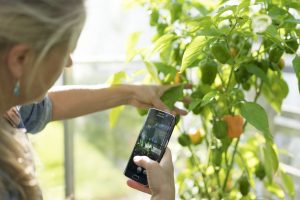 More to read from Gardenize
Images published on the Gardenize website belong to Gardenize AB and may not be used without permission.