Upside-down gardening:

October

in Central

Otago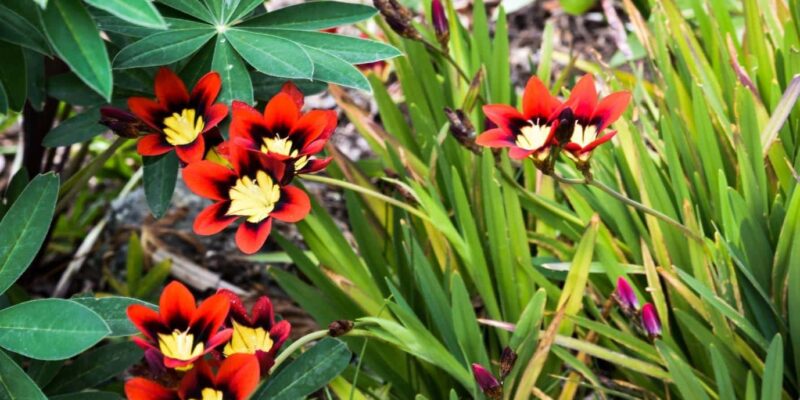 The spring procession continues
Because I am originally from the United Kingdom, I tend to expect spring flowers to be all dreamy and pastel coloured. Here in New Zealand, spring begins with those gentle hues, but soon, more dazzling colours appear.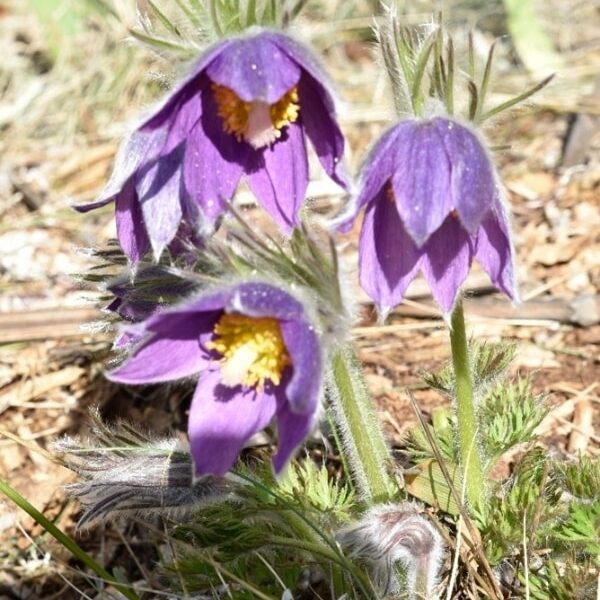 Pretty pulsatillas
Pulsatillas are known as pasque flowers in Europe, because they flower around Easter time there. They are also known as wind flowers. I bought two young plants, both with purple flowers, four or five years ago. I planted them in a very exposed part of the garden with poor soil and very sharp drainage. I am delighted that they have seeded themselves around and that some of their offspring are dark pink. You can also get white ones. The flowers develop into very attractive and tactile seedheads.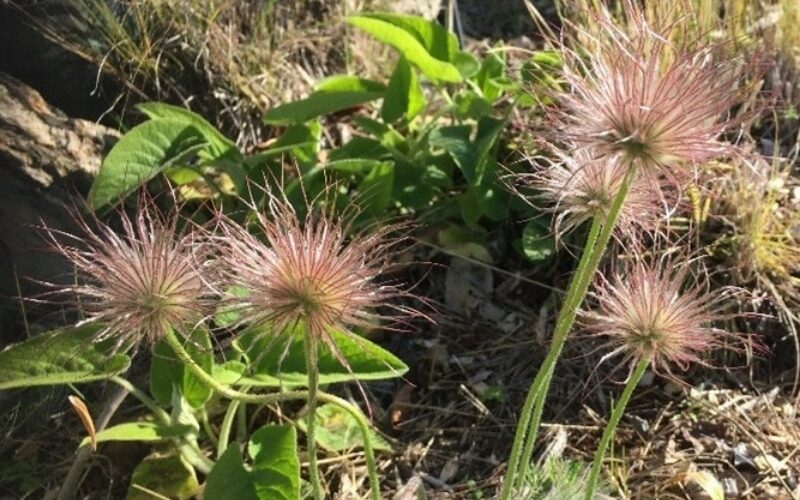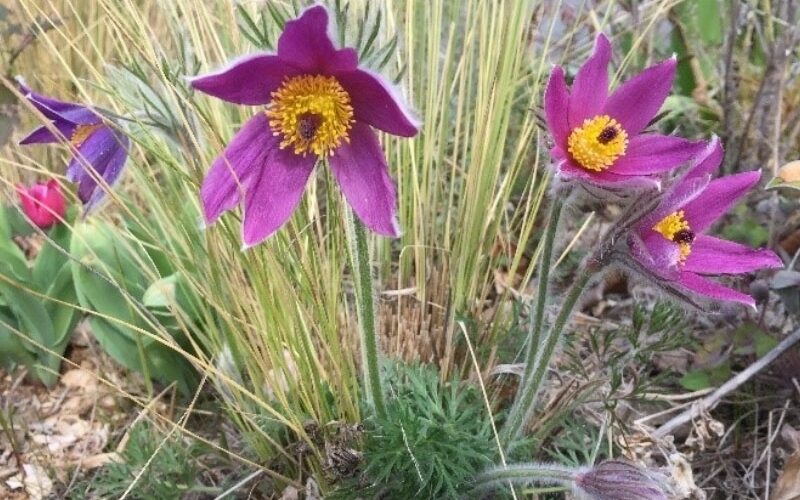 Sparaxis
As the season progresses, the colours in our garden become more vivid. Sparaxis come from South Africa and, because they grow from corms, are well adapted to dry conditions. In our garden, they have spread widely, both under the trees and in very sunny spots. Their bright red makes a great combination with the gazanias, which flower almost all year, and the euphorbia myrsinites, with its greenish-yellow flowers. I like the white markings on the petals of these.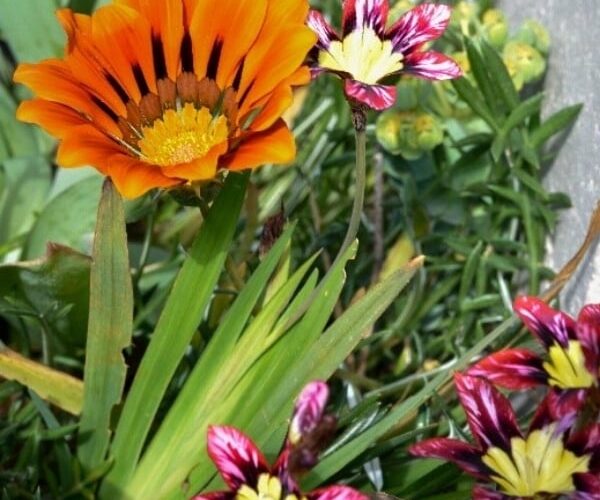 Pleasures to look forward to
Our region is famous for its beautiful paeonies, which need cold winters to do well. Their strong leaves and stems began to push through the soil in September and now they have well-developed flower-buds. The bearded irises are also in bud, so my next blog will be full of images of paeonies and irises.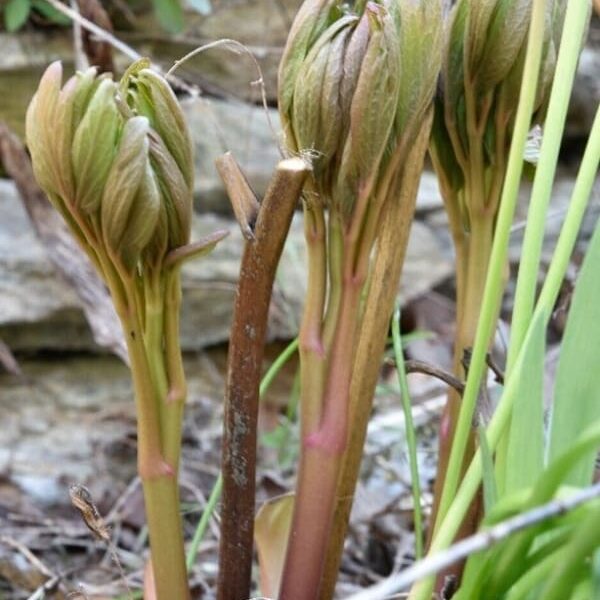 Tomatoes
October is the month for sowing tomato seeds in Central Otago. It is very tempting to start earlier, especially when there are strong seedlings for sale already, but there is no advantage to keeping young tomato plants indoors for longer than necessary. It will be too cold to plant tomatoes outside until night-time temperatures remain above 6o C.
Jobs to do in the garden in October
Sowing seeds indoors
When you pot on your aubergines and chillies, sprinkle a few basil seeds around them. Basil likes the same conditions as aubergines, chillies and tomatoes and will fit nicely in the same pot. Otherwise, sow basil very thinly in the pot it will be staying in, as it does not like to be transplanted. In plugs or seed trays, you can sow beetroot, broccoli, cape gooseberry, carrot, celery, chillies, coriander, cucumber, aubergines, leeks, lettuce, all the squashes (marrow, courgettes and pumpkins), parsley, parsnips, sweetcorn and tomatoes.
Making room for more seed-sowing
As soon as your hardy seedlings are ready, plant them outside. Aubergines, chillies, tomatoes and basil will need to stay indoors until the weather is consistently warm, so move your aubergines, chillies and tomatoes into deep pots. If you have time, it is good to put the pots outside on warm days to harden them off but bring them in at night.
Sowing seeds outdoors
Beans of all kinds, including climbing beans and dwarf beans, can be sown where they are to grow. They'll need support, so you might want to arrange that now. Dwarf beans will be fine with a few sticks pushed into the ground with string tied between them. Climbing beans will need something much sturdier: poles bound together to make tepees, a fence to tie them to, or if they are against a wall or rock face, you will need wires to tie them to.
About the writer
My name's Pamela and a few years ago, at the age of 55, I made the decision to start a new adventure. I left the northwest of England, where I had lived all my life, and moved to New Zealand.  I'm excited to be a guest blogger on Gardenize, and I love writing about my garden in beautiful, sunny Alexandra in Central Otago.  My garden here is about as different as it could get from the damp, shady garden I left behind. Central Otago is the hottest, driest, coldest area in New Zealand, as we have hot summers and cold winters, along with a semi-arid climate. The area is famous for its orchards and vineyards. It has many quaint little rural townships with pretty cottage gardens featuring peonies, bearded irises, hollyhocks, lilies, roses, and lavender that grow so well here. The landscape is spectacular, with dry, rocky mountains and impossibly blue lakes and rivers. The dry mountains look barren, but they've actually covered in tough little thyme plants: a great clue to what might grow well in the garden.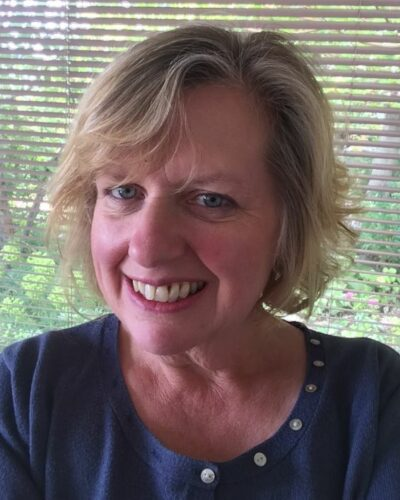 GARDENIZE GARDEN APP
Your garden friend with green fingers and photographic memory.
Gardenize is an app for gardening and cultivation that helps you to overview, understand and develop your garden and your crops. Organizing your garden makes it easier to succeed and your Gardenize app structures all information and make it searchable. You'll get tips and inspiration from other Gardenizers around the world. All Gardenize basic features are free to use. You can download the app from the App Store or Google Play, or create an account directly in the web app in your browser. Get to know Gardenize better here.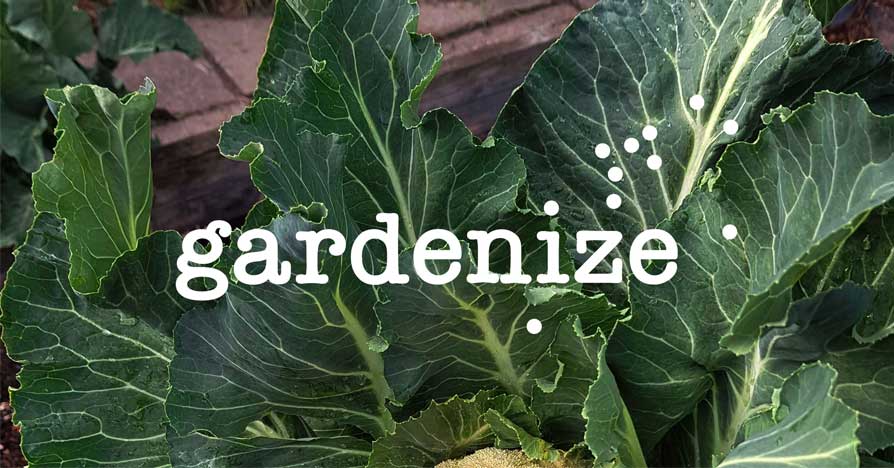 More to read from Gardenize
Images published on the Gardenize website belong to Gardenize AB and may not be used without permission.