Launching Gardenize chat!
Chat with Gardenizers all over the world!
A lot has happened, and we kept on developing Gardenize. As always we have listened carefully to the feedback we get from our beloved Gardenizers. Something that was high on their wishlist was the ability to be in contact with other members inside the platform. We thought that this was an excellent idea and have worked to develop a chat function where our community easily can stay in touch with each other.
No man is an island, not even gardeners. Having this chat function in Gardenize means that garden lovers from all over the world will be able to discuss, share and learn from each other's experiences and getting a ton of inspiration.
Introducing to you – Gardenize CHAT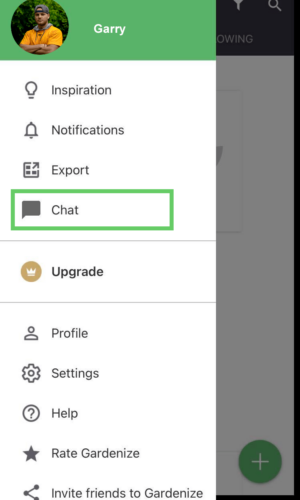 Easy to find
When you press the three stripes on the upper left side after logging into your account, a panel will show up on the left side of the screen. In the left panel, you will find the chat function.
When you have opened the chat. You will find a green button with a pen in the bottom right corner. Press the button and you will be able to search the name of the friend or account you would like to start a conversation with.
You can always contact us at customerservice@gardenize.com
for more info and help!
Try Gardenize Plus for free for 14 days
 The first 14 days of Gardenize Plus are always FREE, so if you change your mind within a week, you simply cancel your subscription and pay nothing
Gardenize garden journal
Gardenize is a digital garden journal, where your own garden is the focal point. You collect and manage information about your plants, garden areas and gardening activities all in one place. Both with photos and notes.
You can download Gardenize for from App Store or Google play. To use Gardenize on the computer you can click here and you will be re-directed to the log in page.
Content published on Gardenize webiste belongs to Gardenize AB and may not be used withour our permission.