Upside-down gardening: June in Central Otago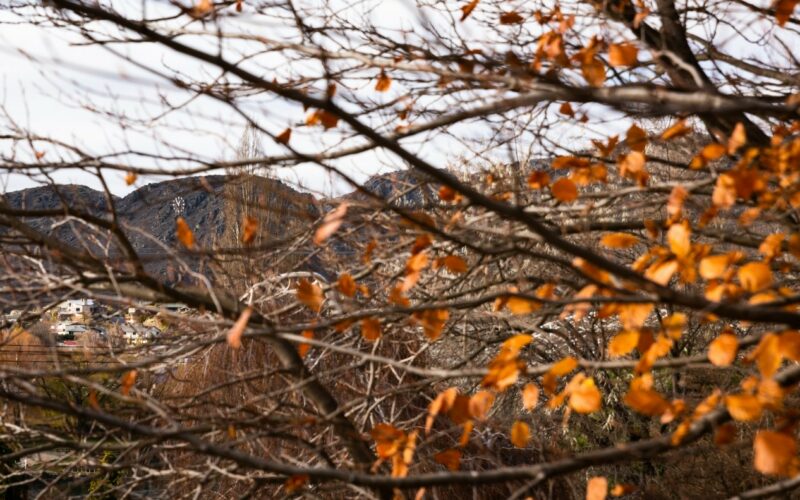 Winter is here
1 June is officially the start of the New Zealand winter. With all but the last few beech leaves remaining, it feels like winter too. Now that the leaves are gone, we can more easily see Alexandra's landmark clock on the hill, as well as the bridge and the river with its boat ramp. Our beech tree is a European one, but New Zealand has its own beautiful native beech, which has the same shape as ours but bears tiny, delicate-looking leaves.
Piet Oudolf-inspired bed
I love the mixture of grasses, olive trees, perennials, and Roger's industrial historical objects here. In true Piet Oudolf style, phlomis seed heads look good in winter. The rich red chrysanthemum flowers are fully open now.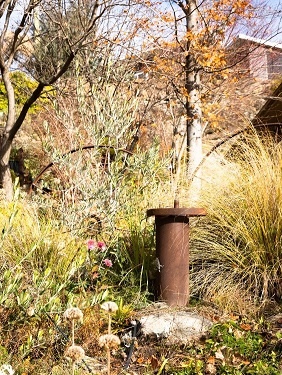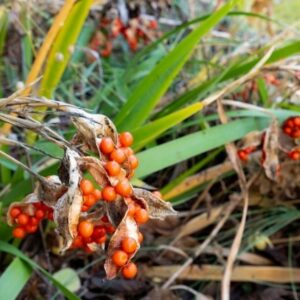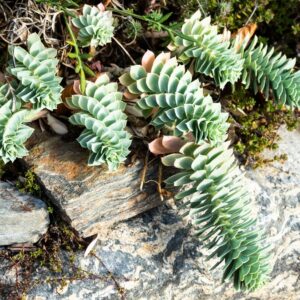 Roast beef irises
These are also known as Gladwin irises, stinky irises, or iris foetidissima. When their leaves are crushed or cut, they smell like roast beef. They are considered weeds here, but they add interest year-round with their delicate flowers in spring and their bright orange berries in winter. Now that the garden is filling up, I will remove them.
Euphorbia myrsinites
The spiraling form and bluish leaves of this easy-to-grow euphorbia look great even in dull weather.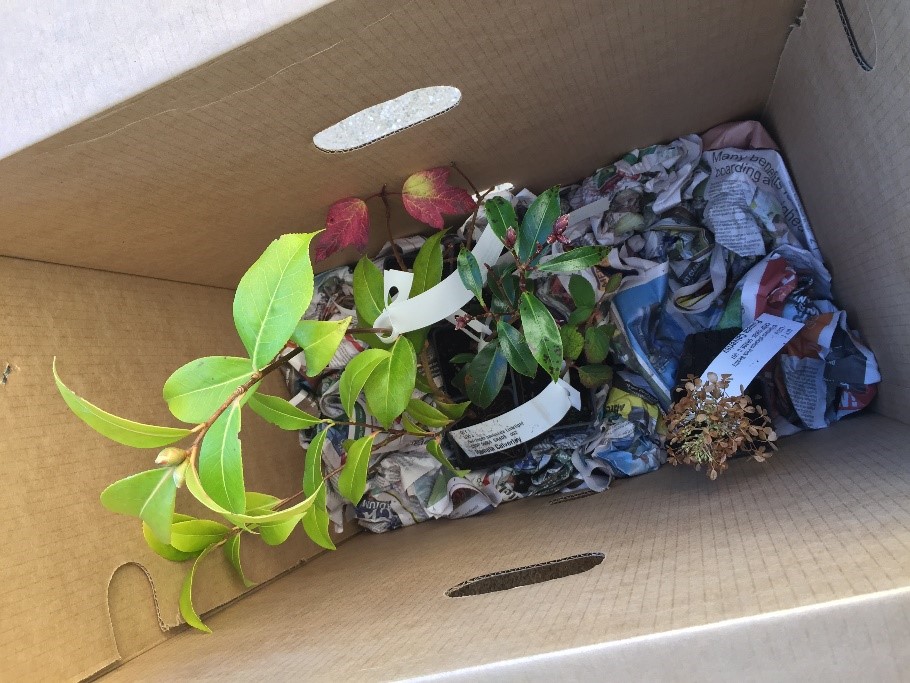 I'd already planned to make a new flower bed, and I love a bargain, so when I saw that a South Island nursery www.bmn.co.nz was having a sale, I couldn't resist buying some young shrubs.  I ordered two camellias, two viburnums, a hydrangea, and a calycanthus. Buying young shrubs and trees, apart from being economical, is often better than buying more mature ones, as they have a better chance to adapt to their new surroundings if you leave enough space between them to allow for future growth. I left the box of shrubs in a shady, sheltered spot overnight and set aside the next day for preparing the new flower bed and planting them.
Despite our marvellous irrigation device, the water didn't quite reach this corner well enough. Grass grubs invaded and the lawn in that section was suffering.  Rather than continue to grow grass plants in an environment that didn't suit them, I decided to cut out a new flower bed. As well as giving me the opportunity to grow more flowers, it would also solve the difficulty of mowing up to the bottom of the pillar. I used a power cord from Roger's workshop to mark out the curved shape of the bed.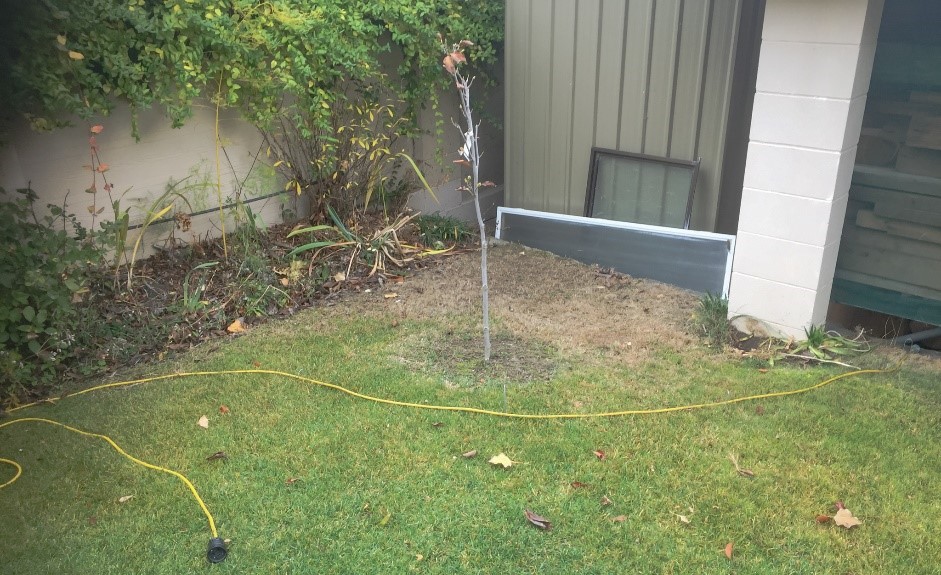 Completing the new flower bed
Using a spade and a grubber, I removed the grass up to the line marked out by the power cable. Then, having already practiced the technique, I added a stone edging at a level low enough for the mower to run over it. The bed next to this one is edged in lavender.
I found a few rooted lavender cuttings and moved them to edge the new bed. Then, all I had to do was to plant the new shrubs. I added some compost from our worm farm to the planting holes. I also moved a big paeony from the back garden (where it was far too big for the space it was in), planted sections of it around the base of the little magnolia (Genie), and watered everything well.  Once I'd completed this job, we had a few days of rain. This was perfect for helping the new plants to settle in and gave me a moment to record the new flower bed and its new plants in my Gardenize app. In future years, I'll be able to see how the bed develops and I can keep track of the plants that live there.
Indoor plants
Gardening in the cold and wet is all very well, but in a place like Alexandra, we don't have to wait long for some more sunshine, even in winter. On those rare occasions when being outside is not much fun, I like to tend to my indoor plants.
Rooting cuttings
My neighbour gave me an aeonium cutting last month and I put it in water so that it could develop roots. Cuttings develop their roots much more slowly in the winter, but this one has a great-looking root system now, so I will soon be potting it up. Because I wanted to keep the long stem, I'll put it in a large pot so that it doesn't become unbalanced and fall over. I'll keep it indoors this winter, but now that I know the garden better, I think I'll be able to find a very sheltered spot where it can survive outdoors next winter. When the light is brighter and the days are longer, its leaves will turn a dramatic black.

Dainty nerines
I have a couple of these dainty white nerines and you'll see them massed in many gardens locally.  They also come in shades of lipstick pink, from cerise to salmon.
Dealing with pests
I don't like insecticides, so if an indoor plant suffers from aphids or spider mites, I usually spray it with a mixture of water and a drop of washing liquid and put it outside for natural predators to sort out. This chilli is still producing fruit and it's too cold to go outside, so I am trying neem oil. If that doesn't work, it will be consigned to the compost bin, and I will be less merciful in future with ailing plants.
Some Vietnamese mint cuttings I had were infested with spider mites and the neem oil seems to have worked on them.  We'll see how it goes.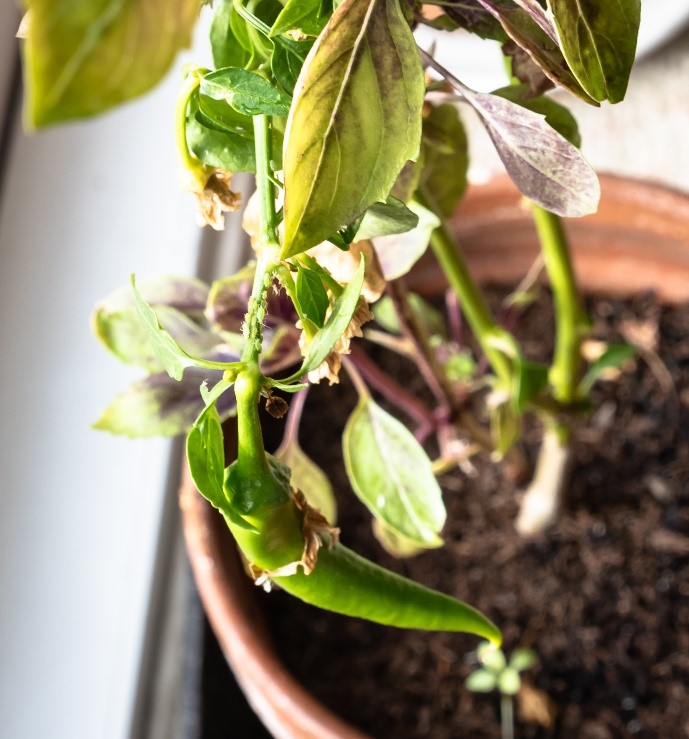 Companion planting
When I planted the chilli seedlings, I planted one or two basil seeds in each pot, because basil is supposed to deter aphids. This basil plant did not help with pest control at all, but I think it's very pretty as well as being delicious.  It's a Persian basil and I was surprised and pleased to see the purple variegation in the leaves.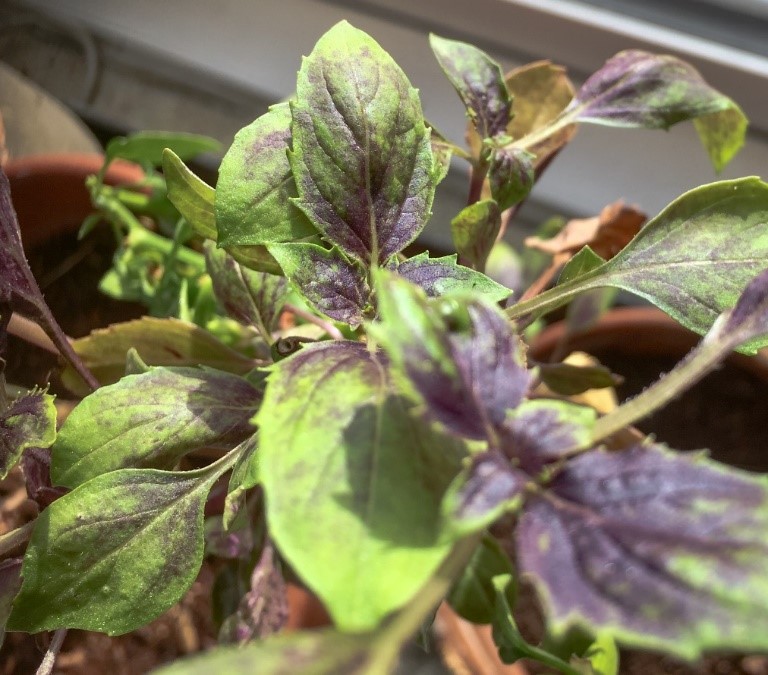 About the writer
My name's Pamela and a few years ago, at the age of 55, I made the decision to start a new adventure. I left the north-west of England, where I had lived all my life, and moved to New Zealand.  I'm excited to be a guest blogger on Gardenize, and I love writing about my garden in beautiful, sunny Alexandra in Central Otago.  My garden here is about as different as it could get from the damp, shady garden I left behind. Central Otago is the hottest, driest, coldest area in New Zealand, as we have hot summers and cold winters, along with a semi-arid climate. The area is famous for its orchards and vineyards. It has many quaint little rural townships with pretty cottage gardens featuring the peonies, bearded irises, hollyhocks, lilies, roses and lavender that grow so well here. The landscape is spectacular, with dry, rocky mountains and impossibly blue lakes and rivers. The dry mountains look barren, but they're actually covered in tough little thyme plants: a great clue to what might grow well in the garden.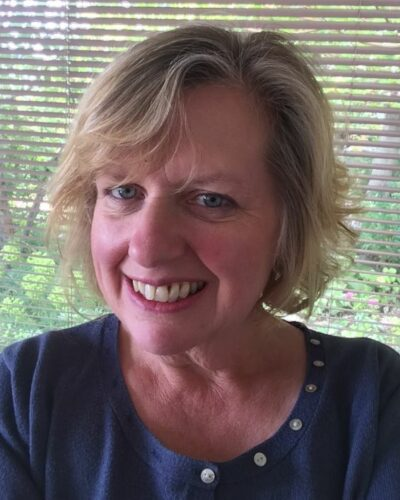 GARDENIZE GARDEN APP
Your garden friend with green fingers and photographic memory.
Gardenize is an app for gardening and cultivation that helps you to overview, understand and develop your garden and your crops. Organizing your garden makes it easier to succeed and your Gardenize app structures all information and make it searchable. You'll get tips and inspiration from other Gardenizers around the world. All Gardenize basic features are free to use. You can download the app from the App Store or Google Play, or create an account directly in the web app in your browser. Get to know Gardenize better here.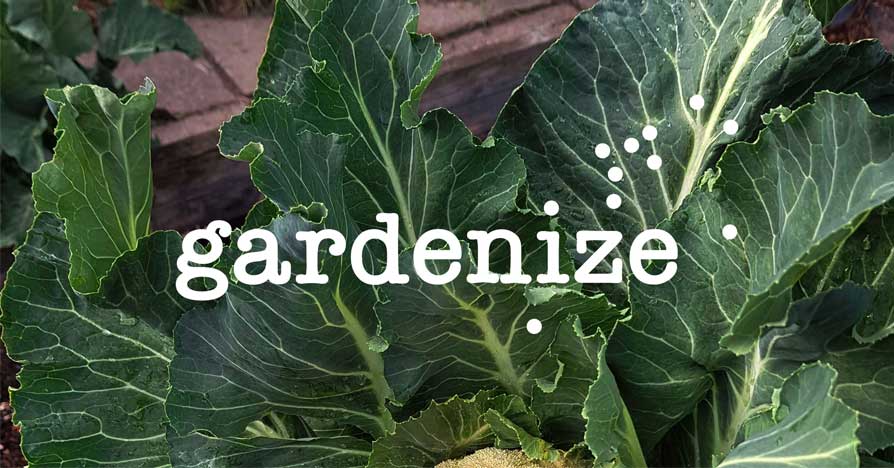 Images published on the Gardenize website belong to Gardenize AB and may not be used without permission.