Upside-down gardening: May in Central Otago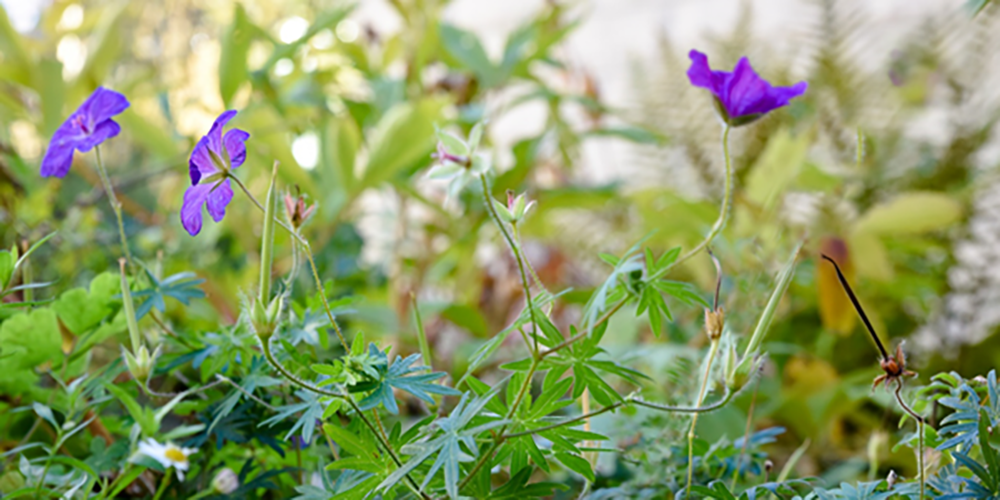 Looking ahead
Gardeners are full of hope. They are always looking to a brighter, more beautiful future.  As the mornings grow colder and we start to light the wood-burner occasionally in the evening, there is still some interest in the garden. As some plants prepare for hibernation, we look forward to next year's displays.
Vivid acers
We have been lucky this year, in that we haven't had strong winds or heavy rain, so the trees have continued to dazzle us with autumn colour. My neighbour has planted a variety of acers and their colours are particularly stunning in the afternoon sun.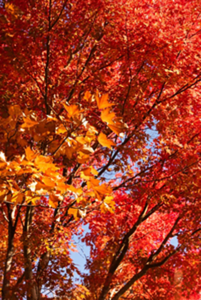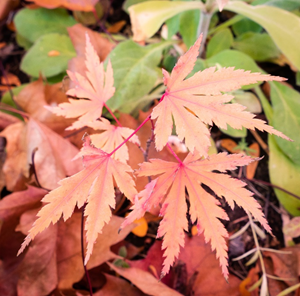 We have bird feeders in the acer outside our kitchen window. Bellbirds and tuis come to the nectar feeder and we fill the coconut shell with fat for the waxeyes.
In ten- or twenty-years' time, the trees will become too large for the space they are in and will have to be culled. That won't be a problem, though, because there are plenty of seedlings ready to take their place.
Even though we are getting the occasional frost now, the bees become active as soon as the sun warms the air. There are still flowers to provide them with nectar.
Fragrant heather
Scottish heather is an introduced plant in New Zealand, and the Department of Conservation list it as a noxious weed.  We have a big patch of it, which I would like to replace one day with a small flower border or herb patch, but on a sunny May afternoon, it is alive with hardworking bees.  It will flower again in the spring, so it is good value in the garden.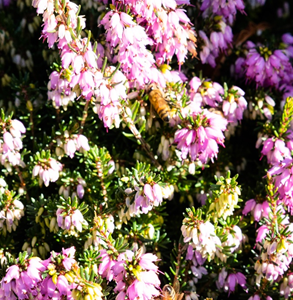 We have both the upright and prostrate forms of rosemary, and both are extremely easy to propagate by simply pushing a branch into the ground.  Chaffinches love to eat the seeds. The prostrate forms are flowering right now, and like the heather, will flower again in spring. The bees make good use of the blue flowers. It is best to keep them well trimmed to avoid them becoming too leggy and woody. Both forms can be made into a loose hedge and the upright form can be topiarised and/or grown as a standard. The aromatic leaves are available for the kitchen all year round and are great in stock, soup and casseroles, and with chicken, potatoes and lamb. Shakespeare had his character, Ophelia, say "rosemary, that's for remembrance". She was mad with grief at the time, but it is said that sniffing rosemary essential oil can improve mental alertness and memory.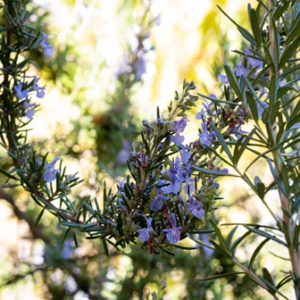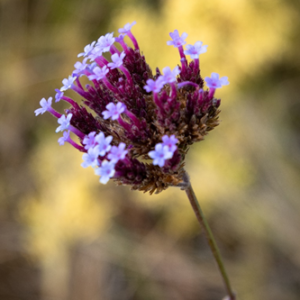 Handsome verbena bonariensis
My neighbour planted a large patch of these elegant plants and we have benefited from the seeds drifting down to our garden and developing into tall, airy plants that wave stiffly in the wind.  I have a section of garden that I am trying to develop into a Piet Oudolf- inspired mix of grasses and flowering pants and they look well there amongst the New Zealand tussocks. They are welcome to self-seed because, even in the front of the border, their tall, narrow stems do not hide shorter, bushier plants. The same neighbour has collected some seed for me from her patch, so I can make sure I have plenty next year. I'll grow some of the seeds in plugs and throw the rest down where I want them to grow. It will be interesting to see which seeds do best.
Reliable geraniums
There are many forms of geraniums or cranesbills.  This one, geranium sanguineum, is particularly drought-tolerant and flowers over a long season. When it gets straggly and untidy looking, just cut it back. In the UK, my geraniums would get "the Chelsea chop": I would cut them back just after the Chelsea Flower Show in late spring. This encourages them to make neat, bushy plants and to produce a second flush of flower.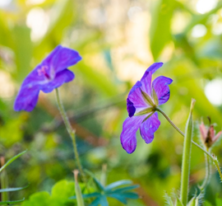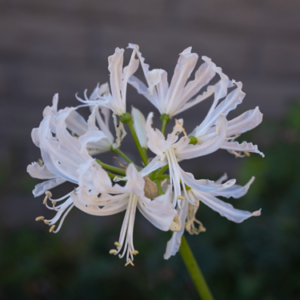 Dainty nerines
I have a couple of these dainty white nerines and you'll see them massed in many gardens locally.  They also come in shades of lipstick-pink, from cerise to salmon.
Cheerful gazanias
Gazanias are so common here that they have, perhaps undeservedly, gone out of fashion.  They self-seed readily and come in a range of hot colours from bright orange, through lemon to white with a hint of buff. Some have fascinating markings.  They are extremely drought-tolerant and flower almost all year, so they are excellent at the front of the border. Their vivid colours go well with the complementary colour combination of red-hot pokers (kniphofia) and agapanthus.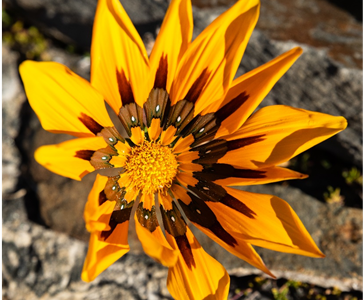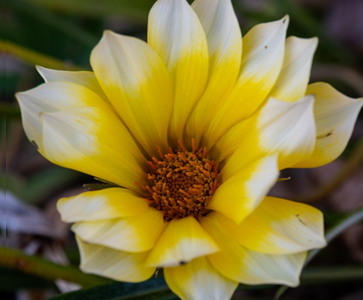 Richly coloured chrysanthemums
I bought this rich red chrysanthemum, along with a gold coloured one, at a bargain price from a local charity shop and I am looking forward to seeing its flowers completely open.  In the longer term, I'd like a collection of chrysanthemums to reflect the colours of the autumn leaves. If they settle in well, they are easy to propagate by division, so my dream should not be too difficult to achieve. I'll buy one or two at a time and maybe graduate to the fancy varieties.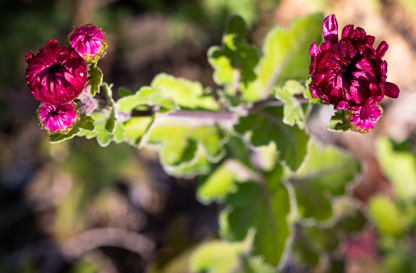 Fruity pineapple sage
I have a pineapple sage in a part of the garden that gets lots of sun but is exposed.  It is often a race to see whether it can flower properly before the frost sends it into hibernation.  I love the fragrance of the leaves and the bright red flowers, though, so I'm trying again with one in a more sheltered spot. Earwigs have chomped on the leaves, but it looks as though this one is going to be safe from the frost. In the North Island, they become large shrubs.  It will be great if this one can make a decent size and then I might make pineapple sage cake and pineapple sage tea.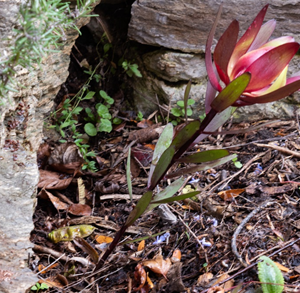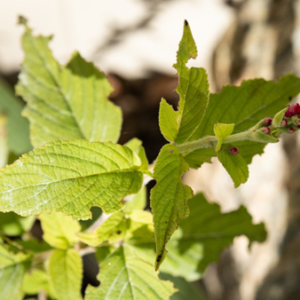 Exotic leucadendrons
Leucadendrons are part of the wonderfully exotic protea family from South Africa. They also have relatives in Australia: the famous warratahs. I received some leucadendrons as part of a bouquet of flowers, so once the rest of the bouquet had faded, I pushed them into the ground in front of a sheltering, heat-retentive rock.  Two of them have formed roots and seem to be thriving.  It will be interesting to see whether they survive the Central Otago winter.
Get tough with plants that don't earn their keep
The grapevine in the back garden has had a sad history.  It has been neglected, then eaten right down to the ground by possums.  I nurtured it and Roger put wires in the rock for it to grow along, but after five years of care, it refuses to produce fruit. I think it may be an ornamental variety, which is all very well, except that productive grapevines are equally ornamental.  It makes lovely autumn colour but requires a lot of pruning and in an area famous for its vineyards, it seems more like a travesty than a tribute to the art of winemaking.  I believe It's time for it to make way for something more useful, so when its leaves are gone, I shall be cutting it down and dabbing it with weedkiller.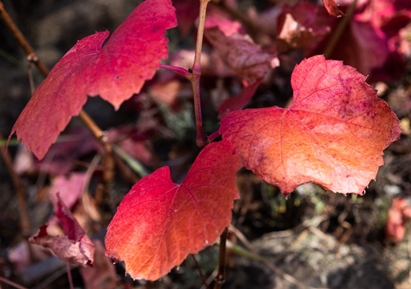 Care for the soil
The grapevine is in a bed that needs to be overhauled.  I couldn't understand why plants that I put in that bed would thrive up to a certain point and then collapse. Then I discovered a patchy layer of strong black plastic buried deep under the soil. Previous owners had laid the plastic to suppress weeds and then covered it with a layer of schist gravel. Over time, the schist had become covered in fallen leaves and self-sown seedlings from the garden above.  The whole area will need to be dug out so that the plastic can be removed. The soil underneath the plastic will probably be sour, so we will need to bring in topsoil or compost. This will be a big job, especially as access to the back garden is up a steep slope. I'll certainly need Roger's help and I suspect this will be a plan more for the long
About the writer
My name's Pamela and a few years ago, at the age of 55, I made the decision to start a new adventure. I left the north-west of England, where I had lived all my life, and moved to New Zealand.  I'm excited to be a guest blogger on Gardenize, and I love writing about my garden in beautiful, sunny Alexandra in Central Otago.  My garden here is about as different as it could get from the damp, shady garden I left behind. Central Otago is the hottest, driest, coldest area in New Zealand, as we have hot summers and cold winters, along with a semi-arid climate. The area is famous for its orchards and vineyards. It has many quaint little rural townships with pretty cottage gardens featuring the peonies, bearded irises, hollyhocks, lilies, roses and lavender that grow so well here. The landscape is spectacular, with dry, rocky mountains and impossibly blue lakes and rivers. The dry mountains look barren, but they're actually covered in tough little thyme plants: a great clue to what might grow well in the garden.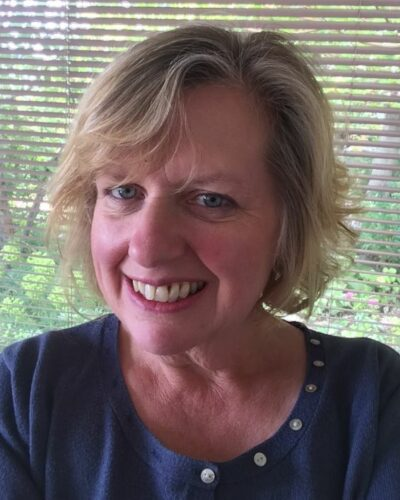 GARDENIZE GARDEN APP
Your garden friend with green fingers and photographic memory.
Gardenize is an app for gardening and cultivation that helps you to overview, understand and develop your garden and your crops. Organizing your garden makes it easier to succeed and your Gardenize app structures all information and make it searchable. You'll get tips and inspiration from other Gardenizers around the world. All Gardenize basic features are free to use. You can download the app from the App Store or Google Play, or create an account directly in the web app in your browser. Get to know Gardenize better here.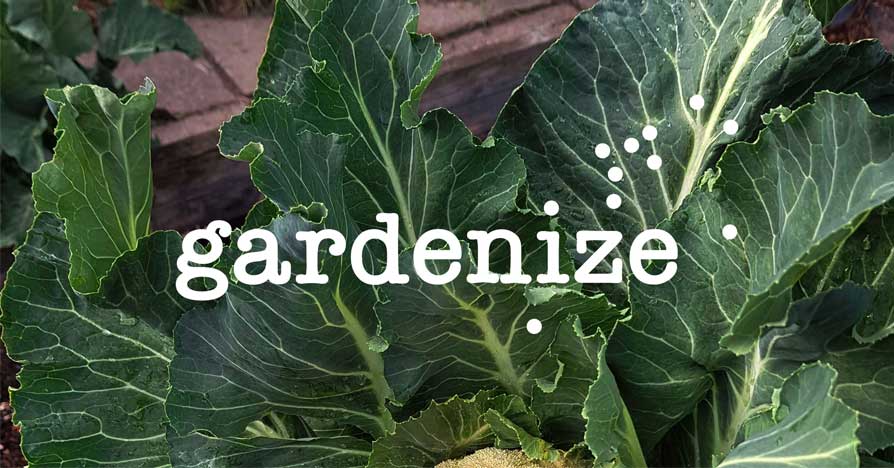 Images published on the Gardenize website belong to Gardenize AB and may not be used without permission.