March is the Month for Great Garden Visions
The month of March is our window of opportunity to make big plans for our garden before the endless onslaught of garden chores consumes our time and attention.
I am not a visionary.  I don't know if it's my New England upbringing, that told me to "eat what's put in front of you" or if it's simple laziness, but I tend to deal with things as I find them.  Normally, that's not necessarily a bad thing for a gardener.  When I see a dead limb, I prune it. When I encounter a weed, I yank it. When I find a lot of weeds, I curse. Gardening, for me, is largely an activity comprised of responses to things I encounter. It doesn't require a great deal of vision. 
Except during the month of March. 
Great garden visions of March
For a limited period of time in the limited universe of the March garden – where one have been lured outdoors by early daffodils, blooming crocuses and warm weather, and where beds normally choked by plants lie empty and waiting – We suddenly see grand visions. And, in the garden, anything is possible. 
Looking at beds that are largely empty, we're able to picture a garden that isn't encumbered by reality. I've pretty much forgotten what was growing there and how large whatever it was will get. I've long gotten over the disappointments that came with bad weather or bad plant choices during past growing seasons. So, for a few glorious weeks, before the dormant plants reappear and start taking up much more space than I could have imagined and weeds start popping up everywhere and I'm forced to revert to my less-audacious normal self as a guy who just responds to things, anything seems possible in my garden. I take advantage of this fleeting moment of temporary audacity and make plans for my garden.  
Add 
Structure
With
 Evergreens
In recent years, those plans have focused on making changes to the structure and bones of my garden. Back in January, I lamented the fact that, for years, my garden had bad bones. It seemed that, no matter what collection of eye-catching plants I threw at it, my garden was never able to achieve the good looks of any of the amazing gardens I was admiring in plant catalogues or gardening magazines.
It took me many years to understand the reason for this was because I had spent very little time lusting after (or even looking at) the conifers and other evergreens that provide essential year-round structure to the landscape. Big deal, I thought, when I would spot a conifer being featured in a magazine. A pine tree. A green triangle. Show me something with color. Show me something that makes people look. Fortunately, after trying and failing for many years, and thanks to visits to much more successful gardens, I have finally come to understand how essential evergreens are to a successful garden design. Well-placed evergreens can define garden spaces, provide backdrops for flowering plants, block unsightly views, frame desirable ones, or simply remind us that we have a garden when showier plants are bare, under ground, or enjoying eternal rest in the compost bin.
Woody plants are more expensive than herbaceous ones and evergreens are often more expensive than deciduous shrubs – which is why I avoided them for so long. But, you don't have to buy many to have a huge impact. And you don't have to buy them all at once. As a matter of fact, I think it makes sense to buy evergreens over time and to let the design emerge. Here are a few lessons I've learned as I've added evergreens to my garden and improved its previously pathetic or non-existing bones.
1. Set Boundaries | Direct and Welcome Visitors
At its most fundamental level, the primary practical purpose of a home landscape is to help viewers understand our property's boundaries and to tell them how to move through it.  We want wanted visitors to know where they should enter, where they should walk, and where the main entrance to our home is.  We want unwanted visitors to know where our property begins.  At an aesthetic level, we want to make our homes look more connected to the land and flatteringly framed.  And, we want wanted visitors to feel welcomed and passers-by to feel uplifted.
Evergreen plants are excellent tools to help us achieve these goals.  A cluster of evergreens at the corners of our property and random clusters along the boundaries can provide us with a bit of privacy or tell people where our property begins.  
Flanking the entry points to our property or home with evergreens can also tell people where to walk and let them know we actually want them to visit – which is something I had to do.  I live in an odd house.  Built in 1730, when needs and resources were limited, the original house on the property has only two rooms.  In order to accommodate modern needs and demands, another tiny house, built in 1830, was moved to the property and attached to the 1730 house to provide a bit more space.  As a result, my house has two front doors.  Except, it really doesn't.  One of the doors doesn't work. It's visible from the outside, but blocked by drywall on the inside.  In order to make it clear which door visitors are to use, I flanked the entrance to my walkway and working front door with hollies. They provide year-round structure and presence; the not-functional front door is flanked by deciduous Hydrangeas. They look nice, but have less structure, so the emphasis remains on the working door.
I've always admired those neat little boxwood edges that clearly define the edges of formal English and early American gardens. But, the price of boxwood, the rampant spread of boxwood blight and my general discomfort with too much neatness had kept me from planting them. A few years ago, though, I stumbled across a small cultivar of Ilex crenata, Japanese holly or box-leaved holly. Not only did these plants look like boxwood (hence the name box-leaved holly), they were also small – and cheap! I scooped up a dozen or so and brought them home. Of course, 12 plants were not enough to fully enclose any beds I had, but they were enough for me to "bracket one." That's a term I made up.
By bracketing I mean, I divided the plants into two groups and planted them at two places at the edge of a bed in order to define its edge and highlight its curves. It was kind of like underlining a series of words in a sentence to highlight the point of a whole paragraph. As you can see in the accompanying photo, even in early spring, when the Hydrangeas that make up most of the foundation planting are ugly, bare twigs, the little run of Ilex crenata plants make the border look like a real garden and not just a parking place for twiggy plants.
A few years later, I used the same trick to highlight the boundary between a planting bed and a patio and to create a straight line that would draw a viewer's eyes to the landscape beyond (see photo). Cultivars of Ilex crenata that can be used in this way include: Border Gem, Geisha, Helleri, Hoogendorn, Soft Touch, Tiny Tim.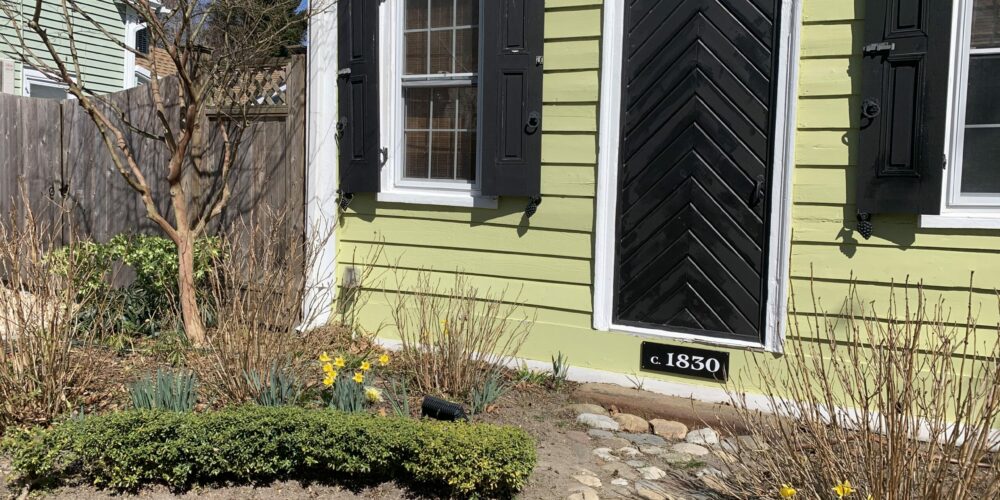 3. Make use of Containers
Every spring, gardeners everywhere spend lots of time and energy trying to figure out what to plant in the various containers we have placed at various critical locations in our gardens. It's an exercise I really enjoy. My landscape doesn't have a lot of color. All the flowering shrubs and trees (except for my witch hazels) have white blossoms. I have large swaths of non-flowering groundcover, and I rely a great deal on foliage and bark to provide seasonal interest and texture. Therefore, the containers in my garden are my primary opportunity to add splashes of color to my garden. These pots are also the perfect places to plant evergreen shrubs or trees.
Several years ago, sitting on my back porch, I decided that the view needed something narrow and vertical to add height and to frame the yard beyond. I have several pots clustered on the patio close to my house. Everything planted in them seemed rounded and stuck to the ground. This pulled the viewer's eye downward toward the containers (which, honestly, weren't that much to look at) and you missed the landscape beyond.
So, I popped over to my local nursery, bought two Ilex crenata 'Sky Pencil' plants, and dropped them into two pots on my patio. The difference was immediate and remarkable. In my opinion, Sky Pencil hollies are odd plants – and a bid boring. They don't flower, bear berries, have interesting bark, or develop graceful branching patterns as they age. Instead, they are simple green columns. And that's all they do. To me, their usefulness and attractiveness in the landscape is limited. But, in containers and in certain landscape settings, they do what few other plants are able to do. They provide a strong vertical line and add height without a lot of accompanying bulk. Placed on either side of my patio, these two green exclamation points raise one's eye and frame the view beyond. And, because they have a narrow footprint, there's plenty of room around the base of the hollies for me to still plant annuals for seasonal color (see photo).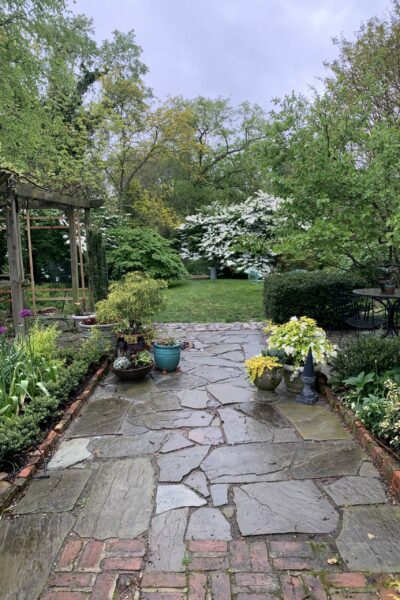 So, hurry up and start thinking grand visions for your garden.  Do it quickly because, if you're anything like me, you'll soon be up to your ankles – and even more quickly, your knees – with weeds and emerging plants that will be demanding your time and attention. And, once that happens, your audacious inner visionary will have to wait for yet another year to dream big dreams.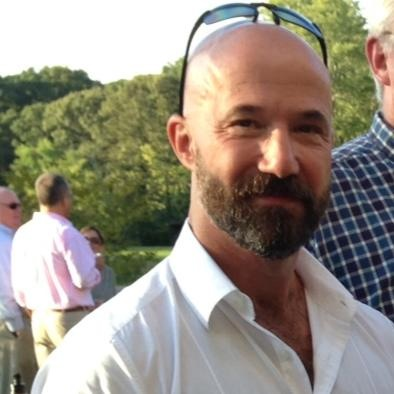 About the Author
Barry Goodinson is an amateur gardener who tends to his Zone 7 garden in southern Delaware on the Atlantic coast of the United States.  He has spent his career working with non-governmental organizations focusing on issues such as homelessness, HIV/AIDS, urban green space improvement, and historic preservation.   He has an undergraduate degree in philosophy, a master's degree in public policy and a certificate in landscape design.
Images published on the Gardenize website belong to Gardenize AB and may not be used without permission.