Poking Around The Winter Garden
Barry is an amateur gardener who tends to his Zone 7 garden in southern Delaware on the Atlantic coast of the United States. He has spent his career working with non-governmental organizations focusing on issues such as homelessness, urban green space improvement, and historic preservation. He has an undergraduate degree in philosophy, a master's degree in public policy, and a certificate in landscape design. We look forward to reading about his garden adventures! In this post, he shares his thoughts when poking around the Winter Garden.
The winter months provide a great opportunity to get close to certain plants and to plot out your plans for the spring.
It seems to me that, for those of us who garden in areas with four distinct seasons, just as there are distinct sets of chores to be done as the weather changes, so too are there also seasonal ways of viewing and enjoying our gardens.  In the summer, we tend to view our gardens through a wide-angle lens, scanning broad swaths of landscape and entire beds of plants.  In the fall, our field of vision lifts up a bit as we take in the crowns of trees or entire mountainsides covered in a riot of autumn color. In the spring, our desperate eyes dart about looking for the acid green of budding leaves and the pastel shades of early spring bulbs.
In the winter, though, except for those few blissful moments when we first look out on at a vast landscape covered with fresh snow (and before we have to shovel it or watch it turn black or slushy), there are few broad and beautiful landscapes to take it. And, as for color, the winter palette is pretty limited to neutral tones.  That's when we learn to focus less on the landscape or gardens and more on the plants — specific individual plants. The winter is not the time for us to be flitting around the garden like extroverts at a cocktail party talking to everything that moves; it's the time to spend quality time with just a few close friends – those reliable and hardy workhorse plants that stay above the ground.  And, because they're not competing with a raft of showy fair-weather neighbours, they're able to show us some wonderful traits we may have overlooked – or they have saved to share with us during this special winter alone time.
Cardoons – Architectural Plants of the Garden
Right now, in my USDA Hardiness Zone 7 garden in coastal Delaware, I'm feeling pretty smitten with several plants that shine particularly bright for me when most of my garden has gone underground or turned brown.  The first are the jagged-leaf Cardoons (Cynara, cardunculus, Zones 7-10) that I planted for the first time last spring.  I had seen these "architectural plants" in magazines, catalogues and dotting the beds of Monty Don's estate-sized gardens on the BBC's "Gardener's World," but I had never seen them in person or grown them myself.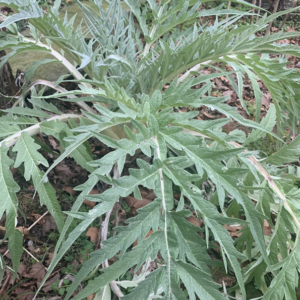 I bought a few at a local greenhouse and tried them out in a few spots in my gardens – with varying degrees of success.  I'm sure I would have had universal success if I had paid more attention to the plants' needs rather than to my own. If I had, I would have planted them all in the well-drained soil and sunny locations their labels clearly told me they wanted – and given them appropriate space to spreads their architectural leaves.
With apologies to the plant that got smothered by a rambunctious summer squash plant and another whose lower leaves were rotted by too much moisture, I'm happy to report that the survivors did great.  Their purple thistle-like flowers were even better than I expected and – true to the promises I been given – their coarse texture and glaucous blue leaves really did have great presence in the garden.  What was completely unexpected was the ongoingness of that presence.  Even as temperatures drop below freezing and most of the garden is hiding underground or presenting itself as bare twigs, the silvery blue leaves of the Cardoons look fantastic (see photo).
And, against the bleak brown landscape of their beds, with no blooming neighbors or encroaching foliage to draw attention away, they look even better and more commanding than they did during the growing season – even without those amazing thistle blossoms. Yesterday, when I went out to find them dusted with morning frost, the show was even more spectacular.
Sedum – Bright Green Minglers
Similarly, in a nearby bed, the acid-green foliage of a patch of low-growing Sedum (Sedum rupestre 'Lemon Coral', Zones 5-8) is even more noticeable against its neutral surroundings than it was during the spring and summer when it was surrounded by green neighbors.  And – at long last – I'm able to see the bright green sedum mingling with the silver-blue of the ornamental grass Helictotrichon sempivirens, Zones 4-8) just as I had planned, but somehow never really saw happen amid all the other plants during the growing season.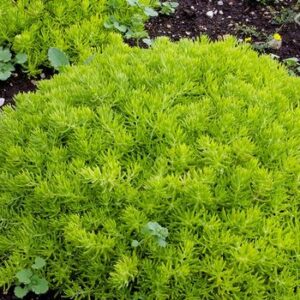 Ogon Spiraea – Lovely Leaves in Winter
Another plant I had repeatedly heard good things about but had never gotten around to growing myself is Ogon Spiraea (Spiraea thunbergii, 'Ogon', Zones 4-8). After planting one early last spring, I came to see that its reputation for "year-round seasonal interest" was well deserved. In early spring it was covered in a mass of frothy white blossoms, followed by soft yellow leaves which fade to lime green before turning orange and yellow in the fall.  All of this was exactly as I had been told.  What I didn't expect, however, was to see those lovely lime, orange and yellow leaves still clinging to the plant's branches in December and January (see photo).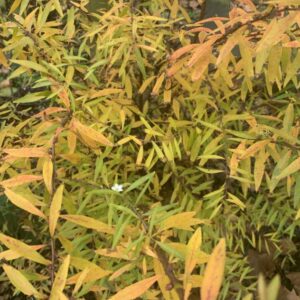 Hellebores – winter bloom
Close to my back door is a mixed bed of shrubs and perennials. At the front of the bed and nearest to the door, so I can easily see them as I pass by, are several varieties of Hellebores (Helleborus spp.). During the summer, their dark green, palmate, leathery leaves provide a nice contrast to ferns, feathery astilbes and lily pad-like Big Leaf Ligularia. But, in the winter, when all those other plants have taken refuge underground, the Hellebores' leaves remain — and the plants bloom!  Some, generally called Advent Roses or Christmas Roses, bloom December through January.
The group of Hellebores often called Lenten Roses bloom February through March. All are incredibly easy to grow, tough as nails and not requiring much pampering or special care. The primary challenge with Hellebores is sorting through the mind-numbing number of cultivars on the market today.  Because they've become so beloved by so many gardeners (for many good reasons), plant breeders are working like crazy to bring us more of what we love.  They come in single- and double-flowering varieties and in shades that range from chartreuse to white to plum to pink to nearly black. They also can be found in combinations of shades, with picotee edges, spots, blots, and contrasting centers.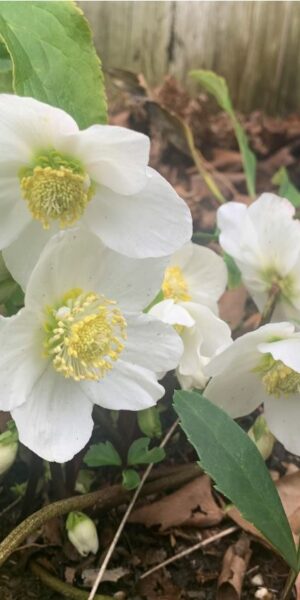 Some gardeners aren't fans of Hellebores because the flowers of many varieties tend to nod downward, making it hard to see and appreciate their beauty.  And, while I'm an advocate of spending one-on-one alone time with these year-round friends, I understand that it's not the most appealing idea to be crawling along frozen grown with your face pressed into the snow and frost in order to do that.   Fortunately, there are several varieties that spare us that effort and the danger of frostbite by presenting their flowers in a more upright and visible manner.  These are Helleborus niger hybrids and have names like Helleborus x nigercors, Helleborus x ericsmithii, and Helleborus x ballardiae.  Or you can just look for terms such as "outward-facing" or "outfacing" in the plant description.  These days I'm enjoying the beautiful outfacing blooms of White-Vein Christmas Rose (Helleborus niger ssp. Macranthus 'Sunny Border') (see photo), which is easily seen as I walk by (fully upright!) on my way to the warmth of my home.
Heavenly Bamboo – Nandina
Nandina (Nandina domestica, Zones 6-9), also known as Heavenly Bamboo, is a plant that, while lovely during the summer, really takes center stage during the winter months. The plant's lacy dark green leaves remain glossy and fresh-looking year-round — except when hit by periodic extreme winter cold snaps.  The fern-like leaves have a purple-red cast before taking on a beautiful deep blue/green. The shrub bears panicles of white flowers in the spring that arch gracefully against the dark foliage. They're lovely, but they're not going to stop traffic.
In the winter, though, Nandina transforms herself from being an overlooked Plain Jane to become one of the garden's most beautiful residents. The arching flower panicles ripen into a riot of dark red berries that glow against the plant's deep green leaves (see photo). In terms of creating Christmas cheer, Nandina's lacey foliage and heavy crop of berries make it even more useful than the traditional boughs of holly.  While Nandinas fit into mixed borders nicely, I think they are most effective when planted in groups or masses. There are also several cultivars that offer a range of sizes and attributes that make them fit into practically every landscape (within their hardiness zones).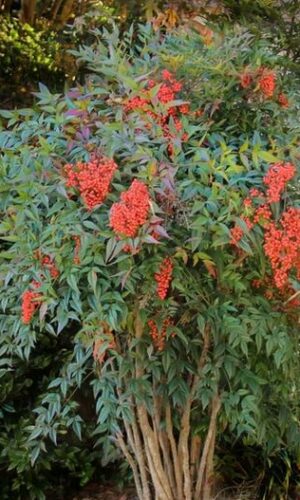 Of course, gardening isn't just about looking at plants.  Gardening is about, well, gardening.  And, even during the winter months, there's actual gardening to do.  So, what chores are keeping me busy when I'm brave enough to venture out into the cold? During the fall and milder start of the winter, I transplanted several things that had outgrown their sites or weren't really suited for them. These were plants that I was dying to move in July and August, when it had become clear that they just weren't fitting into the neighborhood I had chosen for them.  I held off, knowing that moving them in the heat of the summer was the same things as tearing them out and tossing them directly into the compost bin.  So, by the time the cool weather arrived (and I actually got around to it), I had a long list of eviction notices to deliver and implement.  Throughout the fall, as long as the ground was workable, I tinkered with plant placements, hoping my judgment would be better than when I assigned them homes the first time around.
Time to Prune
I also spend a good amount of time deciding what needs to be pruned. When the leaves are no longer obscuring the branch structures of our trees and shrubs, we have an excellent opportunity to see what needs to be clipped.  In addition to being better able to see what the trees and shrubs actually look like, we're not faced with the horrifying prospect of chopping off a beautiful, fully leafed-out branch, even if it's the right thing to do.  In the winter, everything looks dead so we can be more practical than sentimental.
In the winter, we can more easily see branches that are crossing over or rubbing against one another, or poker-straight water sprouts or suckers.  We can think a bit about how changing the profile of a plant might improve sightlines, give room to neighboring plants or make it less likely to be knocked unconscious while gardening.
Mark branches to be removed
I often mark branches identified for removal with colored tape, string or paint. Then I consult expert sources and determine when during the growing season each variety of plant is most effectively and safely pruned and head back into the garden accordingly. When I arrive, I don't have to worry about choosing what needs to be pruned — or losing my nerve if the leaves have arrived.  This approach works pretty well with vines, as well.
Tidy up
This winter I've spent many afternoons picking up dead branches and twigs that have blown off my neighbor's Sycamore tree.  During the summer months, I'd most likely be irritated that I was having to spend so much time cleaning up after my neighbors, but there is a certain meditative quality to the act of strolling around my garden and picking up these wayward tree parts (mercifully, none are very large).
Scanning the ground for them, I'm not distracted by plants that need tending or weeds that need yanking; instead, I have the opportunity to look closely at the condition of things and at the underlying structure and layout of my garden.
Plan Design and Structure
Which leads me to another critical (and really fun) chore to occupy my time and attention over the winter: planning changes to the design or structure of my garden.  In the winter, when the lines and edges of the underlying layout of the garden are not blurred by billowing plants or playing second fiddle to bright colors, we have an opportunity to clearly see if there is structure and balance to our design, if boundaries are clearly defined, and views are properly framed.  It's very much like that old trick of squinting to make sure the lights on the Christmas trees are properly placed and evenly distributed. By blocking out distractions, we can much more clearly see the skeleton of our gardens (or the gaps in our Christmas tree lights).
I recently heard a garden designer say that we should design our gardens to look good during the winter.  If a garden looks good in the depths of February, he said, it'll look fantastic in July. I wish I had heard that advice 50 years ago when I first started gardening.  Like most gardeners (at least I hope it's most gardeners and I'm not just slow to learn things), I had always focused my efforts on making my garden put on a show during the spring and summer. I pored through catalogues and gardening magazines and looked at photos of annuals, perennials, shrubs and trees in full summer glory.  That's what my garden is going to do this year, I promised myself.
And year after year, my gardens failed to resemble anything like the gardens in the magazines or in my dreams.  The reason for this was because, unlike the gardens whose Hollywood good looks landed them in magazines, my garden had lousy bones.  Or no bones at all.
Finally  – Time to reflect
So, take a look at your winter-nude garden.  What do you see?
Did the dropping leaves of autumn reveal something you'd rather not be looking at that needs year-round concealing?
Do your beds and borders still have presence and form or have they become something flat and monochromatic that is not easily delineated from the lawn?
Are transitions between garden areas or entrances to pathways clearly marked?
Are there plenty of plants that remain green or plants with noticeable winter bark, flowers or silhouettes?
Are there vertical elements or plants of structures that frame views?
If not, don't panic.  Just choose one or two of these deficits to correct and start thinking about ways you might do that and let those projects guide your wanderings through the plant catalogues and gardening magazines and websites.  Think about what you want to be looking at when you walk outdoors (or stay warm and peer through the window) in February. Then make plans to make that happen when warm weather comes.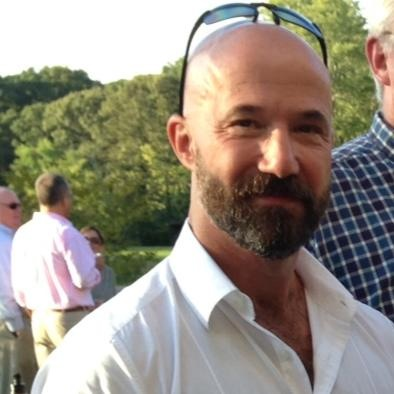 About the Author
Barry Goodinson is an amateur gardener who tends to his Zone 7 garden in southern Delaware on the Atlantic coast of the United States.  He has spent his career working with non-governmental organizations focusing on issues such as homelessness, HIV/AIDS, urban green space improvement, and historic preservation.   He has an undergraduate degree in philosophy, a master's degree in public policy and a certificate in landscape design.
Gardenize Plus 4.40* USD/month
With Gardenize Plus you can:
Use Gardenize on your laptop or desktop computer 

Download your data for free

Create copies of your own plants

Save as many plants / areas / events as you want

Save as many images per plant / area / event as you want

Draw on pictures Save as many inspirational posts as you want
Find more information about the Gardenize offers here.
* Price valid when you subscribe via Gardenize web-service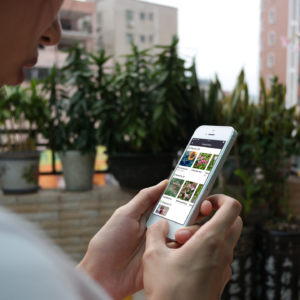 Images published on the Gardenize website belong to Gardenize AB and may not be used without permission.