Here is the second blog from Barry Goodison – our guest blogger. Barry is a gardener who tends to his Zone 7 garden in southern Delaware on the Atlantic coast of the United States. In this post he shares his Garden To Do February.
Garden To Do February,
US – Zone 7
It's February and it seems that the greatest challenge facing Zone 7 gardeners is to simply endure this short but seemingly endless month.  Here in coastal Delaware, February is generally a mixture of three kinds of days:
Days on which the mild temperatures make outdoor work manageable, but the gray, dreary, sun-less skies make napping more preferable;
Days with bright sunny skies that call gardeners outdoors and frigid temperatures that send us scurrying back inside again; and
Snowy days that are good to play in or photograph, but pretty lousy for gardening.
In spite of all the inhospitality we may find outside, there are plenty of things to keep us busy – mostly indoors.
One of the most pressing chores on my garden To Do List for the month is to pour myself a cup of tea, hot chocolate or coffee (or some other beverage that has the ability to affect a warming glow), find a comfortable chair and start flipping through the towering pile of plant catalogues that have been landing in my mailbox since January.
I'm also going to pore over the past year's collection of gardening magazines.  My walk down the Magazine Memory Lane isn't an act of nostalgia. And my fixation with the catalogues isn't part of a sedentary shopping spree.  This is research. And planning.  With apologies to the many fine companies that supply all this horticultural eye candy, I do very limited on-line or catalogue shopping.  Instead, I use catalogues as a planning tool.
Much like clothing and home furnishings, there are trends in garden plants, trends that are created and fueled by the large seed companies and growers that supply local nurseries and big box stores.  The catalogues, therefore, are helpful to tip us off to what those trends are and what new plants we are going to find when we go shopping in the spring.
Catalogues and websites give me the time and opportunity to learn about new plants (or plants that are new to me), do a bit of additional on-line research to learn more about them, and develop a shopping list for the spring.  Then, when planting time arrives in the spring, armed with a list that has been carefully considered, making me less likely to make impulse purchases, I heads to my local nursery.  In addition to supporting local businesses, shopping in-person also gives us the opportunity to see the plants in real life and examine their health, form and quality.  And, much like on-line dating, we can see if they really look like their photos.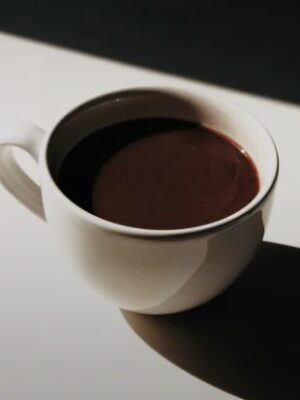 The other way I like to use plant catalogues and magazines is to steal ideas for plant combinations and bed and container designs.  Over the years, online and mail-order nurseries have increasingly been offering "collections" of plants that look and perform well together. The catalogues charge a premium for these collections, trumpeting the fact that their designers have created something special for us and have saved us from the possibility of making bad design choices – even when that special "collection" is comprised of just two plants.
For years, I had admired one of those collections in one catalogue – a simple combination of ferns inter-planted with Casa Blanca lilies.  The photograph in the catalogue showed a long bed in which the beautiful white flowers of the lilies looked great hovering over the deep green foliage of the ferns. One "collection" of plants to create this scene was comprised of three ferns and two lily bulbs.  In order to replicate the scene in the company's photograph, a gardener would have to purchase a dozen of the catalogue's pricey 5-plant collections.
Instead, I purchased many more much cheaper ferns at my local nursery and picked up a few bags of even cheaper Casa Blanca lily bulbs off a rack in the entryway of a big box home improvement store.  So, use your phone to take photographs of plant combinations you like in catalogues and magazines or screen shots of things you like on-line – and bring those photos with you when you go shopping. Or just make a list.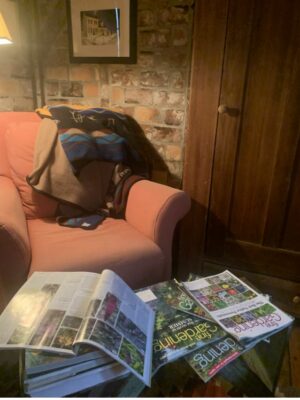 My three exceptions to my Buy Local rule are:
1) When I'm living someplace that doesn't have a decent local nursery nearby;
2) When I'm looking for rare or hard to find plants; and
3) When I'm looking for seeds.
Seed catalogues are able to offer a much wider range of choices for flower, herb and vegetable varieties than local nurseries and stores. Seeds are generally available sooner through on-line and catalogue sources than they are at stores and local nurseries.  In fact, if you are planning to start seeds indoors or directly sow seeds outdoors, ORDER YOUR SEEDS NOW.
Last year, producers sold out of many seed varieties early in the year.  I have already seen that is happening again this year.  So, get moving! Some of my favorite on-line sources of seeds and plants include: Logee's, Plant Delights Nursery, Johnny's Selected Seeds, and Peony's Envy.
4. Tidy Up Your Tool Storage Areas and Clean and Oil Your Garden Tools
If you're feeling like Goldilocks and think that it's too cold to work outside and too claustrophobic to stay inside, then your garden shed, garage or basement may be places to work that feel just right.  And they probably could use your attention.  If you're like me, in spite of the important supporting role they play in our gardening lives, those spaces and the things we store there get little love and attention.
I tend to rush into my garage, grab whatever tools I need, rush out and do whatever chores I have in mind. Then, after a long day of gardening, I drag myself back to the garage and — too tired for much extra effort and focusing on my need for a snack, meal or drink — I drop things wherever I can find a spot.  And leave.
These cold winter days offer the perfect opportunity to clean up after myself and atone for my growing-season laziness by cleaning and organizing my garage and the tools that I had jammed into it.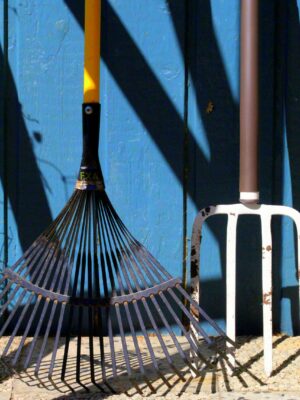 Because I'm not feeling pressed by the demands of the growing season, I can slow down a bit and actually enjoy the meditative quality of the work of cleaning my shovels, hoes, metal rakes, and edging tools with a coarse metal brush, removing rust with sandpaper and rubbing vegetable oil onto the metal parts and wood handles.
Removing and sharpening my lawnmower blade with a file is another easy job to finish that also has a meditative feel to it (Honestly, it's really quite easy; check out one of the many videos on YouTube that show how it's done).
And, of course, there are all those plant ID tags that have piled up over the course of the growing season. These dark winter days are the perfect time to enter that information onto my Gardenize app so I can remember what they are and where I planted them.
5. Prune Plants That Like to be Pruned While Dormant
On those days when the sun is shining and venturing outdoors doesn't feel like you're being punished or banished from the house, you can head out and take care of the shrubs, trees and vines that benefit from late winter pruning.  These include overgrown woody plants, vines that bloom on new growth, and herbaceous plants that we've left standing so the birds can dine on their seed heads.
In my opinion, winter pruning is the easiest and most enjoyable type of pruning to do in our gardens.  First of all, it gets us into the garden when we're missing it desperately.  Also, when plants are bare and we can more easily see their branch structure, it's easy to see what we're doing and to make decisions about improving the shape of a plant.
Finally, if you are new to gardening or just hate that moment right after you've whacked a fully leafed-out branch, it's less traumatic for the person doing the pruning.  A quick internet search can quickly tell you which of your plants should be pruned now.  In my garden, the plants that benefit from late winter pruning include:
Group 3 Clematis (Clematis that die back fully each year),
Old or overgrown Doublefile viburnums (Viburnum plicatum f. tomentosum, Zone 4-8),
Rose bushes,
Lady Banks rambler roses,
Grape vines,
Echinacea,
Verbena bonarienses,
Guara, and
Honeysuckle vines.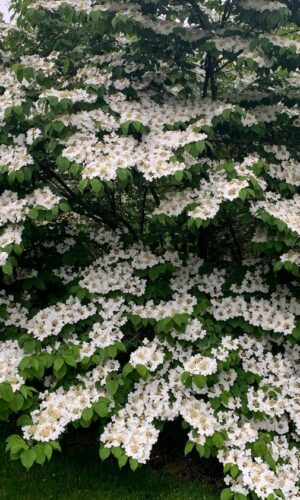 I have a confession to make. In spite of the fact that I've been gardening for many, many years, until this year, I have never studied the sunlight in my gardens. I've had a general idea about which gardens are shady and which are sunny, but I know I've got several things wrong.  One garden, which I have always thought of as a "shade garden" and jammed full of hostas and ferns, is clearly getting more sun than I thought. Those crispy hostas didn't turn brown and burned-out because of too much shade.
And from the anemic display of flowers from the sun-loving perennials I planted in the border along my driveway, the garden is clearly getting more shade from the fence it is planted against than I thought – or from the house on the other side of the driveway.
So, this year, with no long list of chores demanding attention during the month of February, I've finally spent some time looking more closely at the way the sun is hitting my gardens. Of course the sun is a bit lower in the sky than it will be during the summer and the deciduous trees are casting less shade than they will when fully leafed-out. But, at long last, I have a better understanding of how the sun travels across my garden and which spots are full sun, part sun, shade, part shade, etc. And now I have a long list of plants that should be moved in the spring…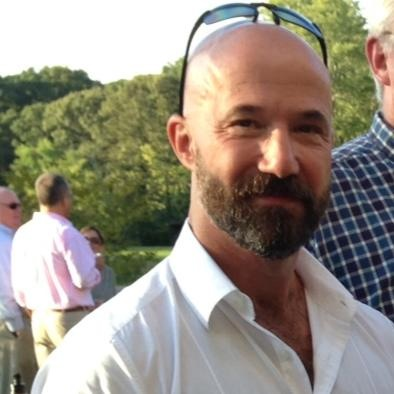 About the Author
Barry Goodinson is an amateur gardener who tends to his Zone 7 garden in southern Delaware on the Atlantic coast of the United States.  He has spent his career working with non-governmental organizations focusing on issues such as homelessness, HIV/AIDS, urban green space improvement, and historic preservation.   He has an undergraduate degree in philosophy, a master's degree in public policy and a certificate in landscape design.
Gardenize Plus 
With Gardenize Plus you can:
Use Gardenize on your laptop or desktop computer 

Download your data for free

Create copies of your own plants

Save as many plants / areas / events as you want

Save as many images per plant / area / event as you want

Draw on pictures Save as many inspirational posts as you want
Find more information about the Gardenize offers here.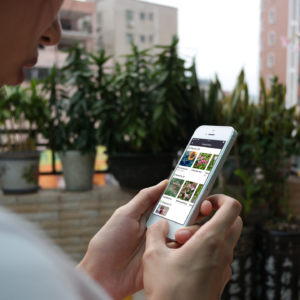 Images published on the Gardenize website belong to Gardenize AB and may not be used without permission.