5 Benefits of Indoor Gardening
More and more individuals are recognizing that their lives lack something essential without plants in their surroundings. The reality is that many of us reside in urban settings, in apartments and condos without yards for gardening. Alternatively, our yards in numerous modern developments are compact, offering minimal room for gardens. So, how can we establish a connection with nature, even within confined spaces? This is where indoor plants play a role, offering numerous advantages to indoor gardening.
Benefits of Indoor Plants: A Healthier You!
By having pockets of plants throughout our living environment. There are two kinds of indoor plants. The first are those that were meant to be houseplants and will live their entire life in your home. The second is a plant that is temporarily in your home but will eventually move outdoors. They share common benefits to you, as well as specific benefits unique to each type of plant.
When you are confined to the indoors due to the weather, the season, or maybe because you work from home, it can increase your need for plants and flowers. That little spot of color helps to lift your spirits and make you feel happy. Put a pot of flowers in the window so when you look out at the drab winterscape, you have a cheery plant to remind you that spring will eventually return.
Do you know that your house plants clean the air you breathe? Plants use carbon dioxide and give off oxygen. Some plants will even absorb some of the contaminants in the air. This is pretty important in our much more airtight homes. Aim for at least one plant in every room. Have fun with this part. Try different types of plants.
You will probably choose a few tried-and-true houseplants like pothos and a spider plant that are easy to maintain and pretty hard to kill. But try some unusual plants too. Maybe an orchid is a fun choice for you. They are available inexpensively and come in lots of colors. Or how about cactus or succulents? They come in all different shapes and sizes and can be grown in a regular pot or you could use a hanging pot.
A great way to start indoor gardening is with an herb garden. If you love to cook, you can elevate any dish by using fresh herbs instead of dried. Include a pot of mint in your windowsill garden and add a sprig to your drinking water. Teach your kids how to pinch the leaves between their fingers for that rush of fresh scent. Add fresh basil to your pizza or spaghetti sauce. Upgrade the canned soup you're making for lunch by sprinkling some chopped chives on top or use them on your potatoes.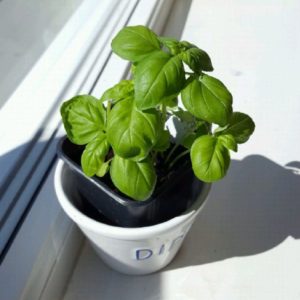 We all love flowering plants, and there are lots you can add to your indoor garden. In the winter, the first flowering plant that comes to mind is the poinsettia. They last a long time after the holidays and will continue to grow. They are now available in lots of colors and are even dyed to appeal to every indoor color scheme.
They will love being outdoors in the summer. It is much more difficult to get the repeat color, but it can be done. They need extended hours each day in the dark to get them to turn color; otherwise, you will have a very nice green plant.
Another popular holiday flowering plant is the amaryllis. This is a bulb that can be grown in soil or even just in water. The flower of the amaryllis is a showstopper, and it comes in many colors but primarily shades of red, pink, and white.
In the spring, you'll see lots of potted tulips, daffodils, and hyacinth. Hyacinths come with the added pleasure of filling the room with a beautiful scent. You also will find cyclamen and azaleas. If you have someone who likes to give you cut roses, ask for a miniature rose plant instead. It will spend the winter indoors, and then you can plant it outdoors in the spring.
Start seeds inside. You can do this with a pot and some soil, but you will have a much better outcome if you spend the money on a seed starter kit. With a small investment in an indoor seed growing kit, you can start your own veggies and flowers to plant outside in spring. This is a great family project as well.
Plan what you want to plant and where. Set up an area in your home to grow in. Read the information on each seed package to determine when you need to start you seeds. You will need light. If you don't have a window or door with full sun exposure, you will have to hang a light fixture over your seedlings and be able to adjust the height of the light as the plants grow.
By starting your own vegetables, you can control the exposure your food has to chemicals found in pesticides and herbicides. You can go completely organic and chemical free, or just limit the amount you use to what you feel is acceptable. You plant what you will use.
If you want a small amount of kale to add to your soup, you won't be forced to buy a six-pack of kale and throw most of it away. You can purchase flowers in the color you want and the size you want them to be. Your kids will learn how plants grow and where our food comes from. And, all the seed starting supplies you purchased can be reused for years.
Adding plants to your indoor space will be a quick and easy way to increase your enjoyment of your home. If you do decide to start your seeds, you will extend that enjoyment to eating meals that include food you grew and cutting bouquets of flowers that you chose and grew also.
Download Gardenize Garden app now!
Keep track of your plant details with photos and your own notes, and maintain a gardening journal in Gardenize Garden app. Get tips and inspiration in one place, and start plant care in an easy way today! Find Gardenize on the App Store and Google Play.