We launch
Gardenize PLUS!
When we started Gardenize, we had a feeling that there was a great need for a digital garden diary. We were right.
April 28, 2016, was the great and nervous day when we made the first release of Gardenize Garden app in Google Play. Later that year Gardenize was launched also for the iPhone-users via AppStore.
Since then, a lot have happened, and we kept on developing Gardenize. We've added and removed functions, everything based on what our heros – the Gardenizers – have asked for. One of the bigger additions came last year, when we added "Friends" and made it possible to also look in to each others gardens and follow the gardening work of friends and family.
We now take the next step, and lauch Gardenize PLUS, and move Gardenize in to your computer.
To be able to be in control of ones garden, and document with own notes and photos as it looks in real world, is still the key element of Gardenize. This is where you collect everything about your own garden reality and you don't compete with photo-shopped or Instagram-filtered, bragging images.
To have all plant photos categorized, in one place and easy to find is a loved features by all Gardenizers. The fact that they are not mixed with all the holiday pics and birthday celebrations is an extra plus.
And if we may brag a little, this is what Gardenize is best in the world at. The simplicity and basic logic is ingenious. At least if you our heros.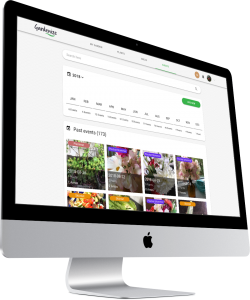 Next step – Gardenize PLUS
It has now been three years since we launched Gardenize, and we move on to the next platform – the web.
We do that by creating a new level of Gardenize that we call Gardenize PLUS. At the start, the biggest difference between and a basic Gardenize account and a Plus account is that you are able to log in also via the web on a computer. And when you do that you get a number of advantages such as bigger screen, access to a keybord so making notes is more easy. And we also see that a number of other requested features such as a better garden planning tool, makes more sense to have on a computer.
Over time we will add additional functionalities in both the web and mobile versions that will be included in the PLUS subscirption. For instance it will be possible to be more than one person managing the same account or you can manage more than one garden with the same log-in.
If you want to have more details about Gardenize PLUS you find it here.
Try for free for 14 days
We celebrate our launch and offer an introduction price of Gardenize PLUS. Instead of paying 5.90 EUR/month you now only pay 3.90 EUR/month!
 The first 14 days are also always FREE, so if you change your mind within a week, you simply cancel your subscription, and pay nothing.
Gardenize garden journal
Gardenize is a digital garden journal, where your own garden is the focal point. You collect and manage information about your plants, garden areas and gardening activities all in one place. Both with photos and notes.
You can download Gardenize for free from App Store or Google play. To use Gardenize on the computer you can click here and you will be re-directed to the log in page. You can try Gardenize PLUS on the computer for free for 14 days and then subscribe at our introduction price of 3.90 EUR/month.
Content published on Gardenize webiste belongs to Gardenize AB and may not be used withour our permission.